When the care recipients had to be quarantined due to COVID-19, volunteers doing household visits played the role of helping families pivot to the world outside. They are the connectors of the broken chain to their mental wellness and means of survival. (Photo by Teh Siau Ching)
Despite the raging Omicron wave, Singapore continues to move towards the approach of living with COVID-19 as it becomes endemic to allow the rails of our society to continue with its momentum.
Pre-Covid, it was a routine for Tzu Chi volunteers to do their home visits every first Sunday of the month, going door to door to care for the care recipients. The progress of home visits has been changing to keep up with government protocols during the pandemic. There were sudden halts like total suspension of home visits which limited the number of visitors, compelling the volunteers to switch to keeping in touch with their care recipients through phone calls and later via video calls. Sometimes slower progress was made, but under exceptional circumstances, up to three volunteers were able to continue their visitations and also accompany care recipients for medical consultations.
Social interaction was also disrupted during the period of pandemic restrictions. For most people, they may only feel some anxiety and inconvenience. To the desolate, they may have nowhere to turn to and be driven to a state of despondency and despair. However, they are not left behind without assistance. Even with the suspension of house visits, care recipients under quarantine or down with COVID, Tzu Chi volunteers did their utmost to deliver care packs, showed their care and concern, helped with purchasing daily necessities and medications, and provided updates and information on healthcare and pandemic prevention. They played the role of assisting households pivot to the world outside and are the connectors of the broken chain to their mental wellness and means of survival.
Rendering timely assistance in times of difficulty
Charity home visit volunteer Leong Wai Chin recollected a case when the government had just commenced a trial for the home recovery scheme in October 2021. While at work, she received a Whatsapp message from Xiao Ru (pseudonym) notifying her that she and her domestic helper had contracted COVID-19.
Besides being anxious and worried about her condition, Xiao Ru also mentioned that she was at her wit's end as daily supplies had run out for her elder sister, who is on a special diet. Xiao Ru's elder sister has difficulties swallowing due to intellectual disabilities. Thickening agents must be added to her regular diet, but she had run out of coagulants. Seemingly, easy tasks like heading out to replenish supplements and grocery shopping had become an uphill effort for this family. They require support from external parties to complete these errands. Xiao Ru is also staying with another elder sister and an aged mother who is a stroke patient. However, her other elder sister came down with depression during COVID and often felt lethargic and reluctant to go out. The family was left with only Xiao Ru and her helper to run errands, but they had to be quarantined at home.
Despite the dire COVID conditions then, Leong Wai Chin felt that she could help Xiao Ru with the medical and food supplies after assessing the situation. With some coordination, she managed to round up volunteers to help purchase groceries and prepare care packs in the hope of offering some peace of mind to the household.
Following the announcement by the Singapore government on the transition phase to co-exist with COVID-19 in August 2021, local infections at one point rose to thousands of cases daily. Some families managed to weather through the pandemic that lasted over months, while some went through difficulties when their household income and jobs got affected. Tzu Chi Singapore timely launched the "Care Report, Trace Support" work model to provide customised support and relief to the affected households and their family members, intending to prevent any families from falling through the gaps in our society.

In November 2021, Tzu Chi launched the "COVID-19 11Care Operation" project. Besides encouraging the care recipients to go for their vaccinations, the volunteers have distributed a total of 666 care packs, improved the quality of video calls and hosted online activities to reinforce personal hygiene knowledge. (Photo by Na Pei Ai)
The pandemic has severely disrupted people's life in terms of job opportunities, community support, and routines. The incessant worrying news from the media and breakdown in social engagement with the community also brought further psychological pressure on care recipients. Leong Wai Chin said, "COVID-19 has worsened the situation for the care recipients."
For example, in the case of Xiao Ru, her mother and elder sister were unable to go to daycare centres due to the ongoing Covid restrictions and could only stay home to be looked after by a helper. Her second sister went into depression after losing her job in the midst of the pandemic. The helper also left abruptly due to frequent clashes with the family members. As a result, Xiao Ru had to quit her job immediately to take care of her family and even compensate her company due to the short notice given.
Given the unfortunate events that happened one after another, life got overwhelming for Xiao Ru, and she found it challenging to cope momentarily. Leong Wai Chin said, "There are many cases as such, where things happen back to back like the fall of dominoes. The financial pillar at home is often most important, like in the case of Xiao Ru if she collapses, the whole family will fall apart."
Other than helping the care recipients tide through the toughest period and helping them apply for financial aid, the volunteers also informed the care recipients of the available avenue to seek help. The volunteers have mostly served as an outlet for these families to release any tension in their life by lending a listening ear. "This is to let them know that they are not facing the problem alone, but with the entire team of Tzu Chi volunteers as their back up".
Leong Wai Chin said gladly, "I've heard my care recipients telling me that they are thrilled to receive our calls. And this is the most delightful message to me."
She added that some patients are unable to go out on their own. However, the pandemic restrictions only allow one home visit volunteer to accompany the care recipient. Sometimes, with the change in protocols, not a single caregiver was allowed; hence it became difficult to keep up with the progress of their condition.
Limitations in tele-support
Since 2020 when COVID-19 broke out in Singapore, volunteers have adopted a hybrid approach of caring for and monitoring their care recipients through phone calls and delivering aid materials to doorsteps in order to continue with their regular household care schedules. Occasionally there were even new care recipients who mistook the calls to be from scammers and refused to pick up. The inability to do door visits significantly reduced the effectiveness of the home care service. Moreover, without in-person visits, physical and facial expressions could not be observed for any abnormality; hence the volunteers had to pay more attention to the tone of their speech and show more warmth.
"The biggest challenge was not being able to see the expression of the other person. It got especially awkward when we could not continue the conversation when the other party paused due to sorrow," said Leong Wai Chin.
The only few opportunities where we could get close to the care recipients after the COVID-19 outbreak was during the delivery of supplies, including the care packs. However, to minimise contact, the volunteers could only send their few words of regard while dropping off the care packs before leaving. Interaction time was hence very limited.
Senior volunteer Lo Hsu Hsueh Yu said face-to-face visitation is vital in strengthening people's relationships. Previously, we could still visit them personally when some care recipients did not pick up or return our calls. However, that cannot be done today, and we can only wait until restrictions are relaxed. This is exceptionally difficult for the elderly who are not equipped with any internet or communication devices. However, if sufficient "affection and love" have been deposited and with positive affinity, connecting via only phone calls will not be a problem.

Volunteers strengthen the bond with their care recipients by visiting them at their homes, forging mutual trust and friendship in the process. (Photo by Zhang Jia Ling)
Checking in on care recipients via video calls
Despite having restrictions in providing assistance under pandemic control, the volunteers were still determined to give their utmost care within the limitations in the hope of giving some strength to the beneficiaries to move forward.
Early last year, volunteer group team leader Chow Pei Kwan and her team members Yaw Heuy Xin and Chen Yu Cheng did a video call trial to accompany their care recipients. They clapped and sang loudly to Teresa Teng's songs in front of their computers, eventually opening up the hearts of the care recipients with their creativity and perseverance.
Ying (pseudonym) is a foreign bride from Vietnam. Being new to Singapore, she had gone through many ordeals and suffered in silence, given her poor comprehension of Mandarin and cultural differences. She had no one to confide in and was unwilling to open up to the volunteers initially. However, the volunteers did not give up on her. Seeing Ying being homesick and downcast, the three volunteers who were similarly from foreign lands knew they had a task on hand.
During the team meeting, they discussed the option of using music to allow Ying to express her emotions and relieve her sorrow. Chen Yu Cheng said, "It is easiest to calm one's mind through music. She can then temporarily forget her suffering for one to two hours. At the very least, she will be aware that she is not alone in Singapore, and she has us for company."
Considering Ying's limited comprehension of Mandarin, they chose some of Teresa Teng's songs instead of Tzu Chi's songs. Ying did not turn down their invitation to the singing session but sensing her shy nature, the three volunteers came up with the idea of singing aloud together. Perhaps it was genuine care and concern that Ying felt. She started to hum along gradually and eventually finished the song with a contented smile on her face.
"From that day on, she took the initiative to ask us when the upcoming online chat session would be. She used to be reticent and always turned us down whenever we asked for a visit." Chow Pei Kwan was both touched and surprised by Ying's change in attitude. When Ying shared what was on her mind, the volunteers listened attentively to help resolve her problems and then shared wisdom from Jing Si Aphorisms.
In reality, video calling isn't perfect. Their internet connection was often disrupted due to weak network signals, but everyone would try to reconnect to continue with the conversation. Despite being segregated by a screen, the team worked together attentively to resolve all the problems encountered. No matter how advanced technology can get, it will never be able to replace the warmth and support from humans.
There are about 350 team leaders like Chow Pei Kwan in charge of household visits island-wide and more than a hundred team members supporting them in servicing about 700 households. Since 2022, video calls have replaced voice calls as the main channel of communication for Tzu Chi household visitation volunteers. Many of those who received video calls from Tzu Chi volunteers felt the closeness and spontaneously shared what was on their minds.
Leong Wai Chin said, "We are usually very pressed for time during home visits and can't stay too long. The engagement will usually last a maximum of half an hour before we leave. With video calls, time is no longer a concern. Some beneficiaries would even show us the situation in their homes excitedly, like showing us the elderlies at home having their meals or updating us when they have fallen asleep.
Although we cannot give them a pat or even a hug to comfort them like we used to, under pandemic situations like this, we no longer need to restrict ourselves to once a month visits but increase contact frequencies. It helped get us closer instead and drives across the message that "we are together with you".
The long path of companionship by volunteers
It is a long battle to fight the pandemic. Caring for the needy is not just about accepting the cases, assessing their situation and providing support. It is about going to the ground to understand their situation, building the foundation of respect and trust by putting ourselves in their shoes when considering the most appropriate approach to assistance and at the same time offering spiritual support.
Needless to say, getting vaccinated can be a life-saving measure. However, some people are still unwilling to be vaccinated. With the increase in covid cases, Tzu Chi Singapore conducted a survey among the care recipients last September to get their feedback on vaccination, covid prevention supplies, and also their mental and health conditions. Volunteers also encouraged the eligible but unvaccinated household members to go for vaccination.
Home visit volunteer Phay Lay Leng observed that those who were yet to be vaccinated were not anti-vaxxers nor anti-science. Also, they may not necessarily be ignorant or self-centred in their thinking, but their procrastination is usually attributed to psychological reasons. It may not be sufficient to only convince them through vaccination campaigns. It takes a more extended period of time waiting for the right timing to encourage them to eradicate their resistance and convince them to get vaccinated.
Phay Lay Leng shared the case of Madam Wu (pseudonym), who was worried about the side effects of vaccination. If she becomes infected, there will be no one to look after her husband and bring him for dialysis. As such, she had been giving various excuses to defer going for the jab. She remained on her guards at the same time, often checking with the volunteers if they were afraid of her as she remained unvaccinated.
It was not until a visit to the clinic that the doctor told Madam Wu that she could no longer come for consultation if she was not vaccinated. She was exasperated and upset by the doctor's message, and Phay Lay Leng took the opportunity to encourage her to go for vaccination as soon as possible.
"Of course, Madam Wu had her worries. Besides being concerned about the potential severe side effects and having no one to take care of her husband, she was also afraid that it would disrupt his dialysis schedule every Monday, Wednesday and Friday. When we arranged for her vaccination to be after the dialysis and her dinner on a Friday, she was worried that the vaccination centre would be closed. When we suggested that she take it first thing on Saturday morning instead, she again turned down as she had to prepare for breakfast."
"We continued to persuade and understand her worries. Other than giving suggestions, we also assisted to check on the operating hours of vaccination at the community centre."
Under Phay Lay Leng's relentless persuasion, Madam Wu finally let down her guards and took the initiative to go for vaccination.
Some care recipients had their preferred brand of vaccination, "They were worried about side effects of mRNA vaccines and wanted to take Sinovac. We were supportive of that as well." However, as Sinovac was low in supply then, she helped to contact the Tzu Chi Medical Support team to inquire about its availability before sharing the information.
"We need to show sincerity and treat the care recipients as our family. They will have their considerations that we need to respect. If we treat them sincerely, they can sense our genuine concern too and hence be less apprehensive."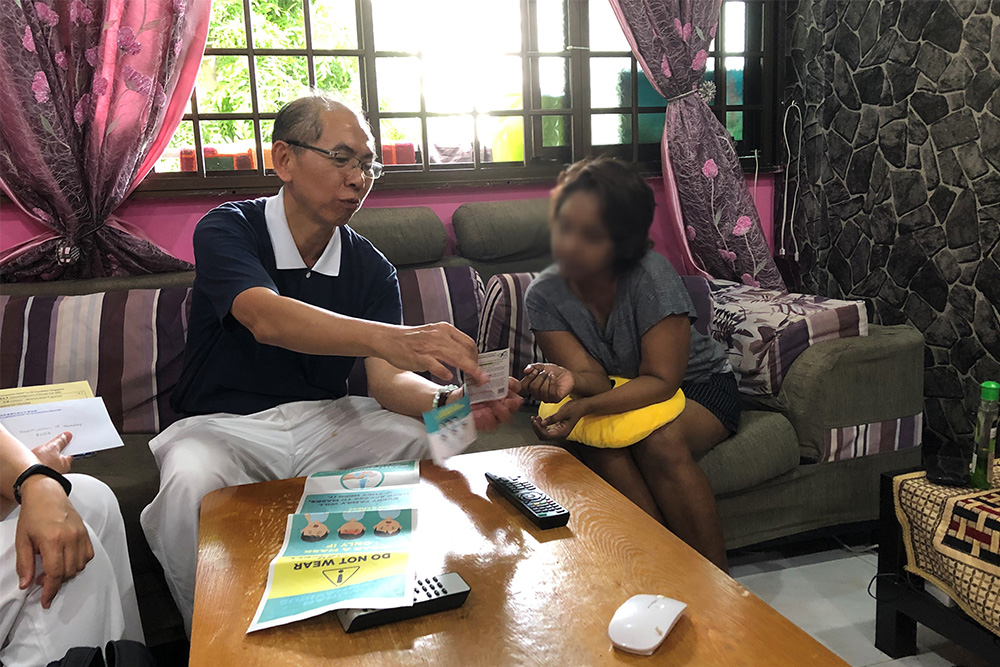 As COVID-19 started spreading in early 2020, volunteers shared with families during their visits verified information on the virus and educated them on hygiene and pandemic prevention tips. (Photo by Lee Beng Hwee)
As charity home visits under pandemic conditions are different from pre-covid times, conveying the idea that "Tzu Chi volunteers are always there" to needy households is very important. This is the crucial message that every volunteer would reiterate. In times of uncertainty and living under "abnormal" conditions like this, they can feel a sense of assurance by communicating with the volunteers. Even if the external environment has fallen apart, the vulnerable households will not be facing it alone.
Conducting home visits under pandemic conditions can be more complicated than usual. Bearing in mind the teaching of Master Cheng Yen to connect with the hearts of those who are suffering, Leong Wai Chin gladly assumed the mission. If catching up with the care recipients in the first week was not possible, she will contact them again the following week. This is to ensure that every case is taken care of.
This sense of purpose stems from the teachings of Master Cheng Yen. "The volunteers of Tzu Chi will always express that 'I adore Master Cheng Yen', but she will instead remark, 'If you adore Master Cheng Yen, you must cherish who and what Master Cheng Yen loves.' This piece of advice has been imprinted deeply on my mind. All care recipients are the people whom Master Cheng Yen loves. Moreover, she will not be able to bear for any sentient beings to be in suffering. We will hope for them to be freed of any suffering and be able to stand on their own feet."