Eco Points
---
Transforming trash into gold, and gold into loving hearts
Every third Sunday of the month is Tzu Chi Environmental Sustainability Day. In 40 neighbourhoods across the island, Tzu Chi has garnered the support of various Residents' Committees, to transform the void decks of HDB blocks, communal pavilions, activity areas, etc. into temporary eco points. Residents living nearby are invited to bring their recyclable items for sorting and recycling on Environmental Sustainability Day. They are also encouraged to bring their children along to learn about environmental protection.
Under the guidance of dedicated volunteers, each Tzu Chi Environmental Sustainability Day is a community activity that promotes kinship and good neighbourliness. Besides doing sorting work hands-on, the volunteers also share knowledge about environmental protection in a warm and friendly atmosphere. After completing the half-day task of sorting the recyclables according to their material, everyone will work together to clean up each venue and restore the venue to its original clean state. Proceeds from the sale of all recyclables are then used to support Tzu Chi's programmes and services that benefit our local communities.
While doing sorting work, the volunteers become more aware of the wasteful habits of a consumerist culture. The experience inspires them to reflect on their own lives, and they start living a less wasteful lifestyle and curbing unnecessary consumption, thereby reducing the amount of trash generated.
Master Cheng Yen describes the Environmental Protection Volunteer as "Grassroots Bodhi", akin to the roots of grasses that protect the soil and water. When every household carries out green practices, we can protect and save our planet.
We warmly invite you and your family to join our ranks of environmental defenders and serve as guardians of Mother Earth!
---
Sorting of Recyclables
The recyclables in Tzu Chi's Eco Points are sorted into the following categories to help reduce the burden of the recycling merchants in handling the recyclables and also increase the sales value of the materials:
Paper

:

waste paper, envelope, book, newspaper, magazine, cardboard, carton box
Aluminium: aluminium can
Metals: metal can
Hardware: copper, bronze, stainless steel, metal parts
Electrical appliances (Non-regulated items): electrical fan, rice cooker, DVD player, microwave, camera, vacuum cleaner, soundbar, blender
Clothing: shirt, pants, belt, handbag, shoes, backpack
Glass: glass bottle, container
*Please note that the following items are not collected at our eco points:
All plastic items, Polystyrene foam, PVC material, rubber container, furniture, wood product, pottery, aquarium, mirror, pillow, diaper, undergarment, socks
We seek your cooperation in doing some preliminary sorting at home. If the items have been contaminated by oil stains, food residues, etc., kindly clean them at home before sending them for recycling. In this way, we can prevent cross-contamination with other recyclables, while also safeguard the volunteers doing the sorting work.
Note:
*We do not provide collection of recyclables from homes and offices.
*All collected recyclables are sold to recycling companies.
---
Community Eco Points Island-wide
Apart from the monthly Environmental Sustainability Day, you are welcome to join our eco awareness activities at our other venues as follows:
Tzu Chi Environmental Sustainability Day (Night Session)
*Temporarily stop operating until further notice
Tiong Bahru Eco Point
Every second Thursday of the month, 7pm – 9pm
Blk 23 Jalan Membina, S163023
Nearest MRT station:Tiong Bahru

Tzu Chi Environmental Sustainability Day (Day-time Session)
*From 15 Sep 2021 (Wed), Eco-Awareness Centre will temporarily stop operating on weekdays until further notice.
*Centre remains open on Saturday (19 & 25 Sep 2021)
Tzu Chi Eco-Awareness Centre
Saturday: 9am – 4pm
Level 1, 1 Woodlands Sector 1, Nylect Industrial Building, S738309
Nearest MRT station:Admiralty
*Temporarily stop operating until further notice
Bukit Ho Swee Eco Point
Every Thursday, 8.30am – 11am
Blk 26 Jalan Klinik, S160026
Nearest MRT station:Tiong Bahru
Tzu Chi Environmental Sustainability Day (Monthly)
Every third Sunday of the month, 9am – 12pm
*Temporarily stop operating until further notice
*Please click here to view the latest updates on the Eco Points
---
Admiralty
Blk 682B Woodlands Drive 62, S732682
Nearest MRT: Admiralty
Aljunied
Blk 98 Aljunied Crescent, S380098
Nearest MRT: Aljunied
Ang Mo Kio 1
Blk 541 Ang Mo Kio Avenue 10, S560541
Nearest MRT: Ang Mo Kio
Ang Mo Kio 2
Blk 624 Ang Mo Kio Avenue 4, S560624
Nearest MRT: Yio Chu Kang
Bedok 1
Blk 111 Bedok North Road, S460111
Nearest MRT: Bedok
Bedok 2
Blk 79 Bedok North Road, S460079
Nearest MRT: Tanah Merah
Bukit Batok
Blk 268 Bukit Batok East Avenue 4, S650268
Nearest MRT: Bukit Batok
Bukit Gombak
Blk 369 Bukit Batok Street 31, S650369
Nearest MRT: Bukit Gombak
Bukit Panjang 1
Blk 413 Saujana Road, S670413
Nearest MRT: Fajar
Bukit Panjang 2
Blk 149 Petir Road, S670149
Nearest MRT: Petir
Chai Chee
Blk 27 Chai Chee Road, S460027
Nearest MRT: Bedok
Choa Chu Kang
Blk 474 Choa Chu Kang Avenue 3, S680474
Nearest MRT: Choa Chu Kang
Fajar
Blk 441 Fajar Road, Bukit Panjang, S670441
Nearest MRT: Fajar
Ghim Moh
Blk 7 Ghim Moh Road, S270007
Nearest MRT: Buona Vista
Hougang 1
Neighbourhood 6 Park, Hougang Street 61, S530686
Nearest MRT: Hougang
Hougang 2
Blk 112 Hougang Avenue 1, S530112
Nearest MRT: Kovan
Hougang 3
Blk 435 Hougang Ave 8, S530435
Nearest MRT: Buangkok
Jurong East
Blk 258 Jurong East Street 24, S600258
Nearest MRT: Chinese Garden
Jurong West 1
Blk 510 Jurong West Street 52, S640510
Nearest MRT: Lakeside
Jurong West 2
Blk 931 Jurong West 92, S640931
Nearest MRT: Pioneer
Marine Parade 1
Blk 76 Marine Drive, S440076
Marine Parade 2
Blk 31 Marine Crescent, S440031
Marsiling
Blk 173 Woodlands Street 13, S730173
Nearest MRT: Marsiling
Pasir Ris 1
Blk 608 Elias Road, S510608
Nearest MRT: Pasir Ris
Pasir Ris 2
Blk 256 Pasir Ris Street 21, S510256
Nearest MRT: Pasir Ris
Punggol
Multi-Purpose Hall @ 164 Punggol Central, S820164
Nearest MRT: Punggol
Redhill 1
Blk 84 Redhill Lane, S150084
Nearest MRT: Redhill
Redhill 2
Blk 108 Jalan Bukit Merah, S160108
Nearest MRT: Tiong Bahru
Sengkang
Blk 266D Compassvale Bow, S544266
Nearest MRT: Buangkok
Serangoon
Blk 241 Serangoon Avenue 3, S550241
Nearest MRT: Serangoon
Tampines 1
Blk 209 Tampines Street 21, S520209
Nearest MRT: Tampines
Tampines 2
Blk 331 Tampines Street 32, S520331
Toa Payoh 1
The Pavilion @ 78A Toa Payoh Central, S311078
Nearest MRT: Toa Payoh
Toa Payoh 2
Blk 156A Lorong 1 Toa Payoh, S311156
Nearest MRT: Toa Payoh
Yew Tee
Blk 621 Choa Chu Kang Street 62, S680621
Nearest MRT: Yew Tee
Yishun 1
Blk 813 Yishun Ring Road, S760813
Nearest MRT: Khatib
Yishun 2
Blk 701 Yishun Avenue 5, S760701
Yishun 3 (New Eco Point)
30A Yishun Central 1, S768796
Nearest MRT: Yishun
---
Related News
Over ten episodes, 22 vegetarian children appear before the camera one after another to introduce different snacks in their kiddy voices. Some are full of confidence while others got themselves into tacky situations.
Tzu Chi International Medical Association of Singapore and volunteers piloted the "21-day Healthy Diet Challenge" programme in the Eastern region and attracted 34 participants. How can diet improve our physical well-being? Let's see the result in 21 days!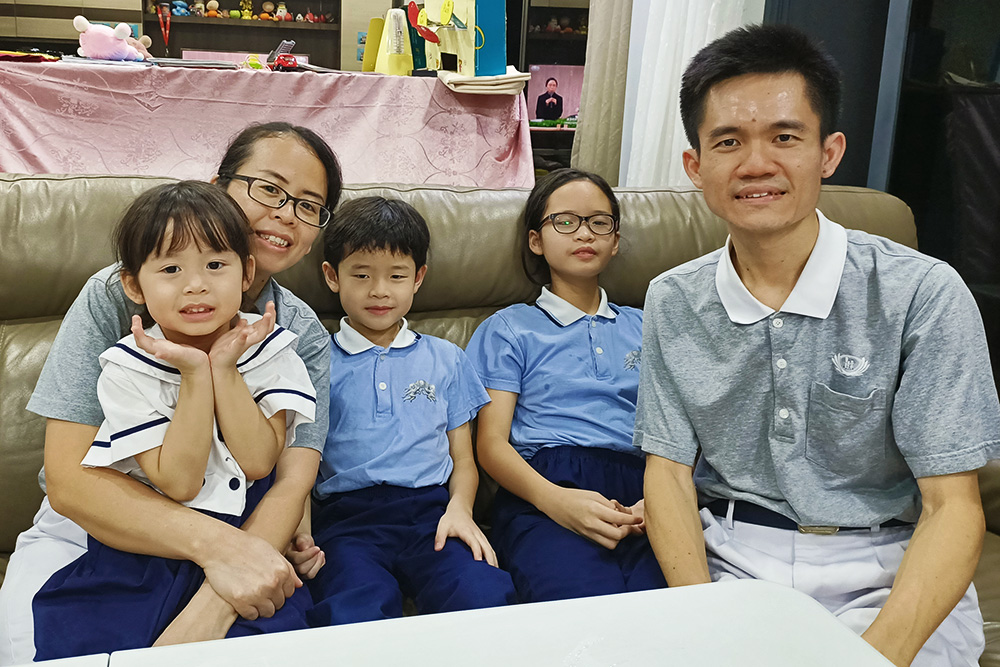 The motivation behind primary school teacher Low Yee Leong's path to vegetarianism for the past ten years was to wish for his wife's smooth delivery. He had been practising "flexitarianism" at home until...