Lakeside Family Medicine Clinic
---
Caring from the Heart, Treating Patients as Family
With over a decade of experience in operating medical clinics in Singapore and free clinics overseas, the Tzu Chi Foundation (Singapore) started collaborating with Jurong Health Services Pte Ltd to manage Lakeside Family Medicine Clinic (LFMC), with effect from 23rd November 2016, thus furthering the aim of promoting humanistic healthcare in Singapore.
LFMC places a strong emphasis on the prevention and care of chronic diseases. Apart from the treatment and management of various acute conditions and 17 kinds of chronic illnesses listed in the Chronic Disease Management Programme (CDMP), it also offers health screening, laboratory services, dietetic consultations, pharmacy and dispensary services, etc.
As a one-stop healthcare destination for patients, LFMC promotes preventive healthcare, which enables the early detection and treatment of diseases. This helps patients to save on medical costs and allows them to enjoy a better quality of life in their later years. A unique feature of the clinic is its humanistic culture, thanks to its dedicated team of volunteers and medical professionals, who serve patients with gratitude, respect, and love.
A primary healthcare provider under the "Healthcare 2020 Masterplan", LFMC collaborates with Ng Teng Fong General Hospital and Jurong Community Hospital, following up on patients discharged from these hospitals by providing them with continued care. With the help of Tzu Chi's Charity Fund, the clinic offers subsidised care to needy and low-income patients. It also refers cases that need further financial aid and emotional support to the Foundation, thereby providing complete, holistic care for those in need.
Lakeside Family Medicine Clinic

Address: Block 518A, Jurong West Street 52, #01-02, Singapore 641518
Tel: (65) 6262 6434
Fax: (65) 6262 6443
Email: lakesidefmc@tzuchi.org.sg
Opening hours
Monday–Friday: 8.30am – 5.30pm
Saturday: 8.30am – 12.30pm
Lunch break: 12.30pm – 1.30pm
Last appointment: 12pm, 5pm
*Closed on Sunday and public holidays
For more information, please visit the website of the clinic: www.lakesidefmc.tzuchi.org.sg
---
Related News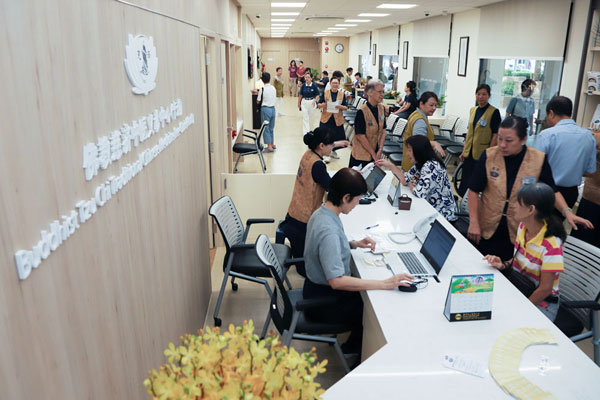 The new Buddhist Tzu Chi Traditional Chinese Medicine Free Clinic is officially inaugurated, marking a new milestone in the NGO's Mission of Medicine. Offering a variety of holistic services, the clinic aims to cater for the different needs of...
Two branches of the Tzu Chi Seniors Engagement & Enabling Node were officially inaugurated in the presence of MPs and residents. These eldercare centres offer comprehensive services and varied activities to senior citizens, allowing them to live a...
In June 2019, Tzu Chi Singapore opened two eldercare centres in the west district, allowing senior citizens to bond in friendship, and engage in leisure and health activities. One of the seniors shared, "I would be staying at home all day (if there were..