Lakeside Family Medicine Clinic
---
Caring from the Heart, Treating Patients as Family
With over a decade of experience in operating medical clinics in Singapore and free clinics overseas, the Tzu Chi Foundation (Singapore) started collaborating with Jurong Health Services Pte Ltd to manage Lakeside Family Medicine Clinic (LFMC), with effect from 23rd November 2016, thus furthering the aim of promoting humanistic healthcare in Singapore.
LFMC places a strong emphasis on the prevention and care of chronic diseases. Apart from the treatment and management of various acute conditions and 17 kinds of chronic illnesses listed in the Chronic Disease Management Programme (CDMP), it also offers health screening, laboratory services, dietetic consultations, pharmacy and dispensary services, etc.
As a one-stop healthcare destination for patients, LFMC promotes preventive healthcare, which enables the early detection and treatment of diseases. This helps patients to save on medical costs and allows them to enjoy a better quality of life in their later years. A unique feature of the clinic is its humanistic culture, thanks to its dedicated team of volunteers and medical professionals, who serve patients with gratitude, respect, and love.
A primary healthcare provider under the "Healthcare 2020 Masterplan", LFMC collaborates with Ng Teng Fong General Hospital and Jurong Community Hospital, following up on patients discharged from these hospitals by providing them with continued care. With the help of Tzu Chi's Charity Fund, the clinic offers subsidised care to needy and low-income patients. It also refers cases that need further financial aid and emotional support to the Foundation, thereby providing complete, holistic care for those in need.
Lakeside Family Medicine Clinic

Address: Blk 518A Jurong West Street 52 #01-02, Singapore 641518
Tel: (65) 6262 6434
Fax: (65) 6262 6443
Email: lakesidefmc@tzuchi.org.sg
Opening hours
Monday–Friday: 8.30am – 5.30pm
Lunch break: 12.30pm – 1.30pm
Last appointment: 12pm, 5pm
*Closed on Saturday, Sunday and public holidays
Services
Chronic Diseases Management Programme (CDMP)
We provide treatment for the following chronic illnesses:

Anxiety
Asthma
Benign Prostatic Hyperplasia (Enlargement of the Prostate Gland)
Bipolar Disorder
Chronic Kidney Disease (Nephritis / Nephrosis)
Chronic Obstructive Pulmonary Disease (COPD)
Dementia
Depression
Diabetes Mellitus / Pre-Diabetes
Epilepsy
Hypertension (High Blood Pressure)
Hyperlipidemia (Lipid Disorders)
Ischemic Heart Disease
Osteoarthritis
Osteoporosis
Parkinson's Disease
Psoriasis
Rheumatoid Arthritis
Stroke
Schizophrenia

Common Ailments
We treat and manage a wide range of common conditions, such as the common cold and flu, bacterial infections, aches and pains, gastric discomfort, etc.


Diabetic and other Nurse Counselling


Diabetic Retinal Photography (DRP)
Diabetic Retinal Photography (DRP) screening is carried out by our trained nurses and helps to detect retinopathy and prevent blindness.


Diabetic Foot Screening (DFS)
Early identification of diabetic foot diseases and early intervention will prevent complications and reduce the risk of amputation. The screening is carried out by trained nurses.


Spirometry Services
For Asthma and COPD diagnosis and management.


Opportunistic Health Screening (for patients/caregivers)


Laboratory Services
Phlebotomy, Electrocardiogram and basic lab tests are performed by trained personnel to provide doctors with accurate and timely lab results for diagnosis.


Treatment Procedures
There are various treatment procedures available, such as nebulization for acute asthma attacks, wound dressing, removal of stitches and injection of trigger fingers. We also provide simple ear syringing or ear wax removal procedures, and minor surgery for skin warts, skin tags, sebaceous cysts etc.


Pharmacy Services
---
Related News
Breast cancer is the most common cancer among Singaporean women. How can we prevent it?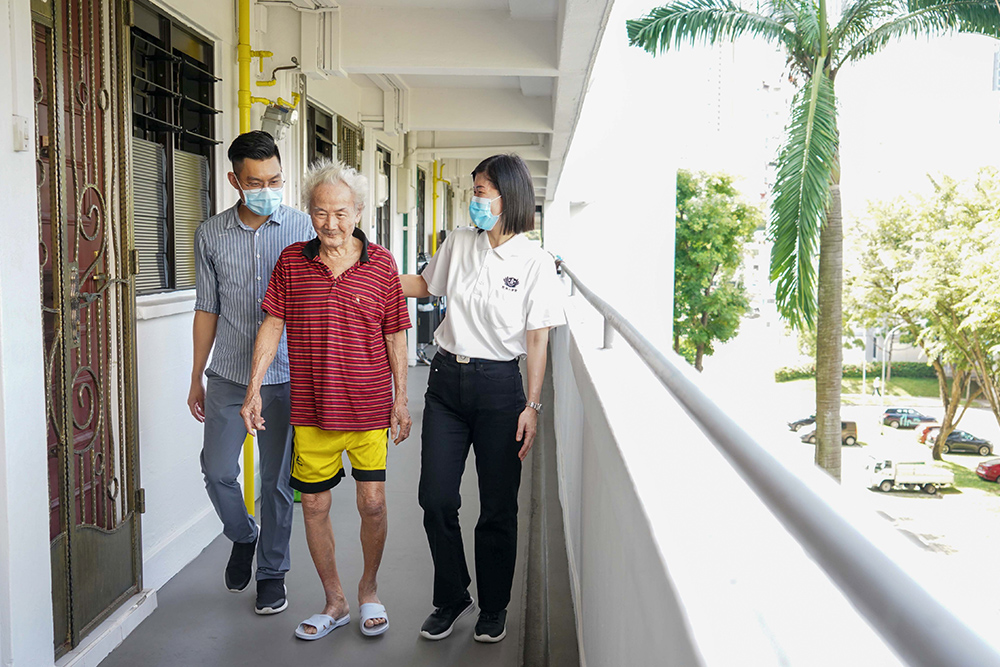 With a declining birth rate and a rapidly ageing society, elderly people are having a tough time looking after each other. The community's varying degrees of medical care and everyday living care services are critical to the elderly Toh couple's retirement life at home.
Nobody knows how long her journey as a caregiver is going to be, but Ho Ngit Wah still looks forward to her golden years.