Teenagers' Class
---
Education is akin to planting trees. The trees need to grow deep roots, in order to thrive and flourish.
The six years of primary school education cultivate children's sense of ethics, propriety, and decorum. Upon entering secondary schools, the teenagers begin to develop aspirations and goals for their future. Hence, an important focal point of education at this stage is to inculcate positive values and provide a moral compass for the youths.
The Tzu Chi Teenagers' Class has been established for close to two decades, and recruits teenagers between the ages of 13 to 16 years (Sec. 1 – Sec. 4 students). It offers a holistic programme designed with various experiential activities that encourage exploration and discovery. Through participation in these activities, the youths are guided to identify and understand their own emotions and traits, and learn helpful skills to navigate and overcome the challenges of growing up. Children who graduate from the Parent-Child Bonding class may also enroll in the Teenagers' Class, to continue their learning journey in an environment imbued with Tzu Chi's humanistic values.
Led by a team of loving volunteers, the monthly Teenagers' Class helps to instill positive values, such as kindness, compassion, filial piety, etc. in students, and inspires them to find meaningful directions in life. To cater to the needs and inclinations of modern youths, the lessons are no longer limited only to classroom-based instruction or one-way teaching. As life and character education is best taught through outdoor or hands-on activities, the programme of the Class includes recycling work, charity sale, farm visits, etc., where the students are given opportunities to take on responsibilities, work in a team, and serve in practical ways.
The Tzu Chi Teenagers' Camp is held annually at the Jing Si Hall. During the Camp, lessons are delivered through fun and interesting games and activities, which engage the students in an enriching and meaningful way. The Camp also brings the entire year's lessons to a fruitful closure.
Date and Time: 4th Sunday of every month, 9am – 2pm (lunch is provided)
Open to: Sec.1 – Sec. 4 students
Venue: Jing Si Hall
Annual Fee: S$140
*Teenagers' Class has been temporarily suspended until further notice. 

---
Related News
As Singapore moved into phase two of reopening after Circuit-Breaker, Tzu Chi Collegiate Youth Association (Tzu Ching) planned for a second mentoring programme called "Mentoring With Love 2.0".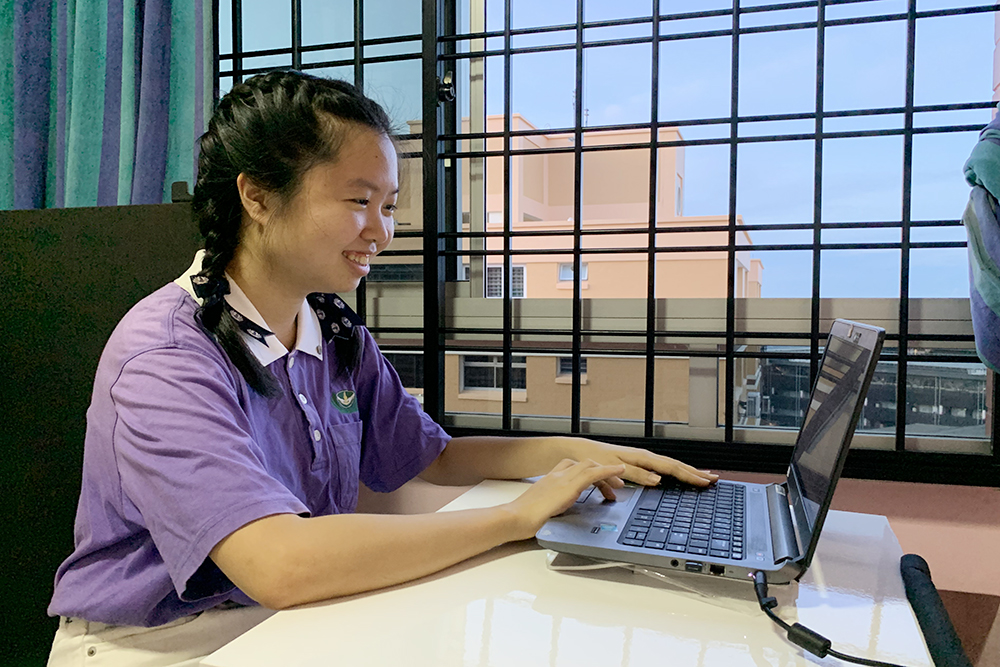 Amidst the COVID-19 outbreak, Tzu Chi Collegiate Youth Association (Tzu Ching) arranges online mentoring sessions for the care recipient's children who are doing home-based learning.
Besides working from home and taking care of household matters during the circuit breaker period, volunteers spent their spare time sewing face mask covers, making full use of their skills to contribute to the society.