Tzu Chi's Friends in Dharma keep Ng Chye Hock (left) and his daughter company when Ng's wife, Ang Ah Choon, is hospitalised. They also find out about the daily care needs of his daughter (second from left) to provide help where needed. (Photo by Lim Chwee Lian)
On November 3, 2021, Ng Chye Hock was distraught and panicked as he watched helplessly while his wife, Ang Ah Choon, who had difficulty breathing due to the virus infection, was taken into an ambulance by medical personnel donned in full personal protective gear.
Ng Chye Hock's daughter is mentally handicapped and has always been cared for by his wife. In October 2021, both mother and daughter were diagnosed with COVID-19 consecutively. His wife, who had a kidney transplant, was already in poor health, and the infection caused her to fall critically ill. Ng's life which is already full of hardships and challenges, took a further hard knock, plunging him into the deep abyss of helplessness.
"Her (Ang Ah Choon) condition deteriorated, and she was suffering from acute respiratory failure," Ng Chye Hock recounted.
Before Ang Ah Choon was intubated to ventilate oxygen into her body, his wife sent him a text message, "I'm sorry, I'll have to go first."
Ng Chye Hock cried: "I was devastated (to see that)."
In addition to worrying about his wife the whole time, Ng Chye Hock, the sole breadwinner of the family, had to take care of his daughter who could not look after herself. The physical and mental burden was unimaginable.
Fortunately, during this challenging period, Tzu Chi's Dharma family members provided care assistance to support both their physical and mental wellbeing. Whenever he saw familiar figures of Tzu Chi volunteers, his flustered mind gained a certain calmness. Through this episode, Ng Chye Hock gained a first-hand understanding of the impermanence of life. Yet, he also experienced the loving-kindness and genuine concern shown by Tzu Chi Dharma brothers and sisters.

Fully geared medical personnel are arriving at Ng Chye Hock's house to escort Ang Ah Choon to the hospital. She battled with the virus for three weeks before getting out of danger. (Photo by Ng Chye Hock)
Overcoming the Tests of the Pandemic
Ng Chye Hock's daughter, Ng Ting Wei (not her real name), is 29 years old. She was diagnosed with intellectual disability at birth. Although surgery has repaired her congenital cleft lip and palate, Ting Wei remains unable to speak and could only express her feelings through uttering unintelligible sounds.
The most worrisome for the family is Ting Wei's disability in hand, eye and body movement, as those are affecting her balancing and sense of direction. In addition, she lacks a sense of danger, and often falls or knocks into things. She once had a serious fall, which consequently led to her inability to stand steadily. At home, Ting Wei can only move by dragging her hips. She is also unable to sit firmly on the toilet seat and requires a restraining belt to prevent her from falling off.
Due to Ting Wei's conditions, her mother, Ang Ah Choon, has to provide round the clock care and supervision, and manage all her needs. But the long-term caregiving work has exerted a toll on her. Ang Ah Choon had to undergo kidney dialysis for many years due to kidney failure. Although she received a kidney transplant in 2008 and no longer requires kidney dialysis, her long-term medication has led to diabetes and triggered uncontrollable weight gain.
Despite her poor health, Ang Ah Choon did not yield to her misfortune. She is diligent, thrifty and worked part-time on weekends so that Ng Chye Hock can go to work with peace of mind. Thus, though Ting Wei lacks the physical and mental ability, she has no lack of love from her family.
At the end of October 2021, Ting Wei was diagnosed with COVID-19. Although Ang Ah Choon falls into the high-risk group of COVID-19, she risked exposure and took great care of Ting Wei till her recovery. Unfortunately, a few days after Ting Wei's recovery, Ang Ah Choon fell sick to the virus. Her condition took a turn for the worse and was rushed to the hospital due to breathing difficulties. It was so serious that Ang Ah Choon required intubation to stay alive.
Upon hearing that she needed intubation, Ang Ah Choon who has been suffering from various illnesses for many years, almost gave up her will to survive. But her husband, Ng Chye Hock reminded her about their daughter, and her need for their care and finally persuaded her not to give up. Her family's love swayed her and strengthened her resolute to survive, and she was finally willing to accept intubation.
For the next three weeks, Ang Ah Choon's life was hanging by a thread, and every minute was a danger.
Boundless Love and Care from their Dharma Family Members
When Ang Ah Choon was hospitalised, the heavy responsibility of taking care of their daughter fell onto Ng Chye Hock. Although he is the sole breadwinner of the family, he had no other choice but to temporarily put away his work. This was also the beginning of his physical and mental stress.
"She is already a grown-up. I had to brush her teeth, shower her and dress her. I also needed to feed her. These are not difficult, the most challenging was when she was having her period!"
Ng Chye Hock has joined Tzu Chi for over 20 years. Dharma has taught him to look at things from different perspectives and think positively. "Fortunately, I joined Tzu Chi and through the Dharma teachings, I have now treated her as Avalokitesvara Bodhisattva, so showering her is like bathing the Buddha (Note)."
Although Ng Chye Hock buckled down to face all these challenges with righteous thoughts, he couldn't resist the negative feelings he had within. He said, "I couldn't sleep, I would sometimes sulk in a bad mood and question why do unfortunate things keep happening to me?"
Fortunately, during that difficult time, Tzu Chi Dharma brothers and sisters swiftly appeared to give their care and concern. On 4 November 2021, the day after Ang Ah Choon was hospitalised, community volunteers Choe Yi Mun and Wong Sow Chee visited Ng Chye Hock and presented him with a care pack. And when Ang Ah Choon was in critical condition, the volunteers from the East District also prayed fervently for her speedy recovery during the Dharma Incense Permeation session at dawn.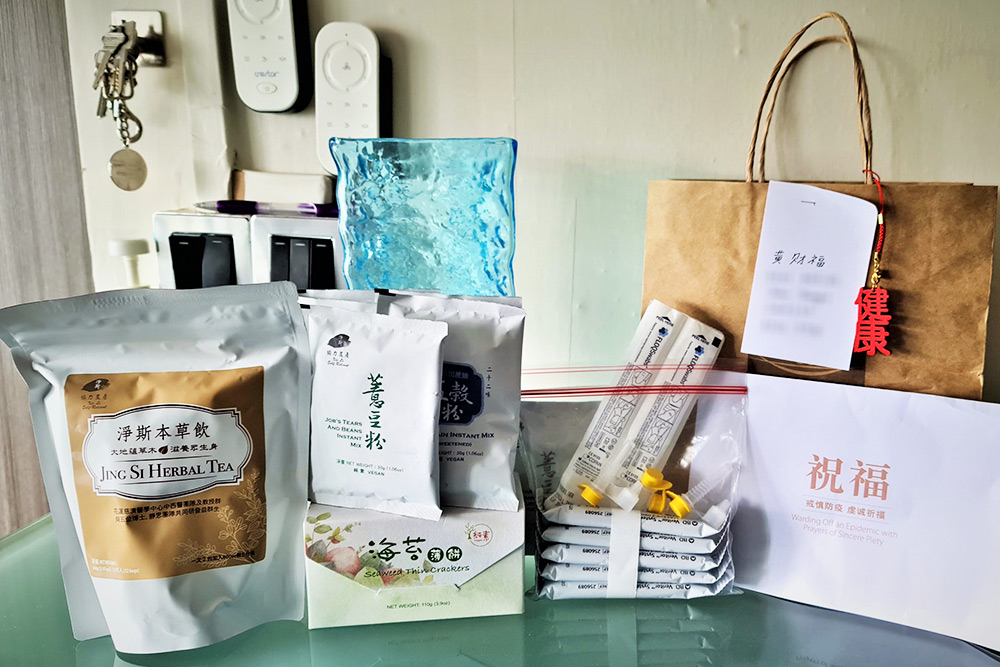 After learning that Ang Ah Choon is hospitalised, Tzu Chi community volunteers show their care and concern right away by visiting Ng Chye Hock and bringing him a care pack. (Photo provided by Ng Chye Hock)
Since young, Ting Wei has been attending the special school at the Movement for the Intellectually Disabled of Singapore (MINDS). She now attends classes there thrice a week. Therefore, at four or five in the morning on schooling days, while his daughter is still asleep, Ng Chye Hock would rush to the market to buy food and breakfast and return before she wakes up. After washing up and having breakfast, he would then bring her to school before going to work.
However, there are four other days when Ting Wei does not attend school. As Ng Chye Hock had no other support but to bring his daughter to work as she could not be left at home alone. As a delivery man, Ng Chye Hock would lock his daughter in the passenger seat of his van when he had to deliver his goods. But knowing that his daughter lacks a sense of danger, he did not dare to leave his daughter alone for too long. He would complete his work hurriedly, always ill at ease.
On 11 November 2021, volunteers Lim Chwee Lian, Chong Ah Yok and Lim Kim Yan visited Ng Chye Hock to take care of his immediate needs. After understanding the situation, Tzu Chi Dharma family members arranged for two to three volunteers to visit Ng Chye Hock every weekend so that he could go to work and be rest assured that Ting Wei would be in good hands. As Ting Wei has been familiar with Tzu Chi volunteers since young, she would laugh, clap her hands and babble in delight whenever she sees them. Sometimes, the volunteers would even cook at Ng Chye Hock's house and have lunch together with them before Ng Chye Hock leaves for work.
Volunteer Nancy Chew recalled that during that period, community volunteers not only expressed their concern for Ng Chye Hock through text messages but also arranged for people to take turns to visit him at different times to keep him company and care for him.
She said: "Brother Chye Hock always avoids troubling others. If he could do something by himself, he would, and it aches us a lot. Although he was so frail back then, he was still smiling all day long. We would visit him to keep him company and send him our regards so that at least he could feel the warmth and love of his friends."
After Ang Ah Choon recovers, she shared that during her hospitalisation, she was most worried about her daughter's well-being. After knowing that Tzu Chi Dharma family members and many in the community have extended support to her husband, she realised that her fear was unfounded.
Tzu Chi brothers and sisters care for Ng Chye Hock's family through home visits, text messages, heart-warming cards and several other ways during the challenging period. (Photo by Ng Chye Hock)
Witnessing the Miracle of Love
Back then, the doctor had declared Ang Ah Choon critically ill and made Ng Chye Hock very worried. "My biggest fear was getting phone calls from the hospital!" He choked up a few times as he recalled those days. During that period, he could only communicate with his wife via mobile phone video and pinned all his hopes on the medical team.
Three weeks after her admission to the hospital, something amazing happened! Ng Chye Hock received good news from the medical team. Ang Ah Choon was out of danger at the intensive care unit. Her blood oxygen saturation had increased, and she could be extubated.
At the other end of the line, the doctor claimed that it was a miracle that Ang Ah Choon survived the ordeal. Ng Chye Hock was moved and grateful and frequently expressed his appreciation to the medical and nursing team. The volunteers were surprised and delighted too when they learned about it. They were grateful and very happy for this loving family.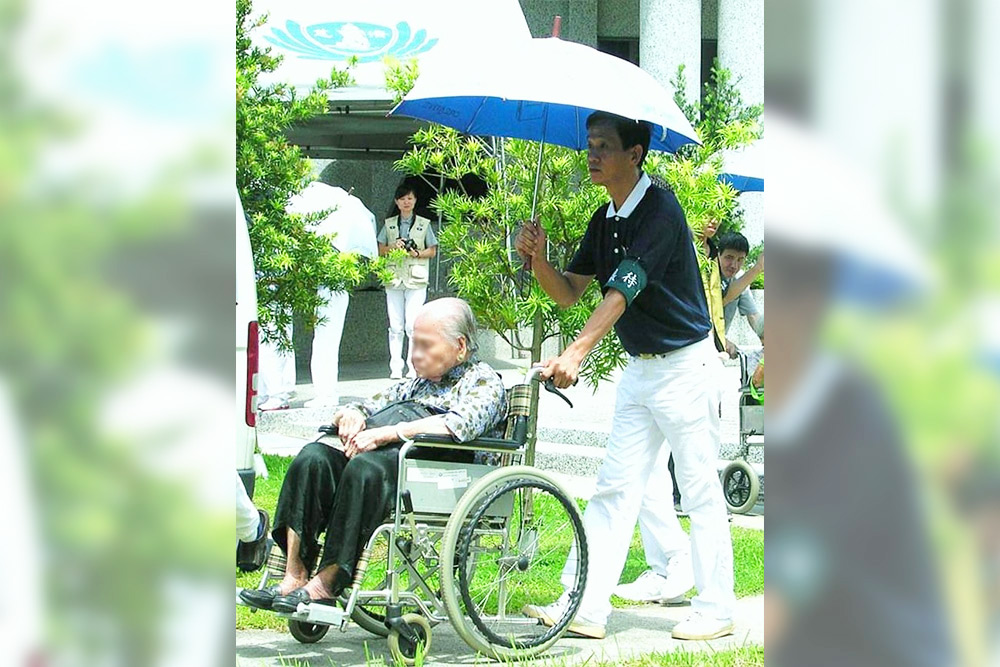 Ng Chye Hock has been serving as a Tzu Chi volunteer since he was young. He said that Master Cheng Yen's Jing Si aphorisms had seen him through challenge after challenge in life. (Photo by Ng Chye Hock)
Challenges of Long-term Caregiving
In December 2021, Ng Chye Hock was finally able to visit his wife at the hospital. His wife survived the critical stage, but he then faced the next challenge of ensuring that both his wife and daughter would be well cared for after her discharge from the hospital. As Ang Ah Choon had been ill in bed for a long time, the nerves in her legs have been damaged. She has also gained a lot of weight as a side effect of her kidney transplant. As a result, it has become very challenging for her to move about and she would require long-term physiotherapy.
Ng Chye Hock's long-term plan was to hire a domestic helper to take care of his wife so that he could work to support the family with ease of mind. However, the maid agency told him that the Ministry of Manpower has stipulated that employers of domestic helpers must meet a salary requirement of at least S$2,000 or possess fixed deposits. As Ng Chye Hock did not fulfil the criteria, his application would likely be rejected.
Ng Chye Hock had no choice but to seek Tzu Chi's assistance in writing to Lianhe Zaobao. In the article titled "Appealing for an exception to hire a domestic helper", which appeared in the reader's column, Ng Chye Hock explained his family's situation and sought the understanding from relevant authorities to make an exception for him to hire a domestic helper. He had also sent an appeal to the Ministry of Manpower.
The article attracted much attention, so much that a journalist from Zaobao linked Ng Chye Hock to the Ministry of Manpower. The authorities responded quickly to his appeal with recommendation letters furnished by social workers and doctors. The Ministry of Manpower assisted Ng Chye Hock through the Joint Income or Sponsorship Scheme, an existing platform that would allow him and his relatives to co-pay for the employment of a domestic helper.
After several twists and turns, Ng Chye Hock finally crossed the hurdles and succeeded in hiring a helper before Ang Ah Choon was discharged from the hospital. Although paying for the helper's salary and levy has increased his financial burden, with the social workers' support, Ng Chye Hock plans to strive on and apply for a disability allowance for his daughter.
On Ng Chye Hock's birthday on 12 January 2022, Ng Chye Hock is pleasantly surprised and touched when volunteers from the East District visit him to celebrate his birthday as well as his daughter's birthday, which falls on the 15th of the same month. (Photo provided by Ng Chye Hock)
Mrs Ng is home!
After being treated for more than three months, Mrs Ng was finally able to return home on 24 February 2022. Ng Chye Hock could not hide his excitement when he fetched his wife from the nursing home. His joy was beyond description.
Looking back on the challenges and hardships life has presented to him time, and again, Ng Chye Hock is still full of gratitude. "Come to think of it, I am among the fortunate ones. My wife has recovered. My Dharma brothers and sisters would fill me with care and blessings whenever I was upset. Furthermore, I am still fit."
"I will persist in what I do. There is no point in overthinking about the future because it is unpredictable. It is simple – just take care of our family". Over the past 20 years, whenever I am faced with any setback or trouble, the Jing Si teaching that I remind myself of is, "One must overcome difficulties and not be overcome by difficulties."

Dharma brothers and sisters from Tzu Chi are at Ng Chye Hock's house to welcome and cheer for Ang Ah Choon (front row middle) after she is discharged from the hospital. (Photo provided by Ng Chye Hock)
The strong-willed Ang Ah Choon said, "I hope I can stand up again one day!"
Keeping up with her rehabilitation exercises twice a week, the couple believes that this day will eventually arrive!
With Dharma as their spiritual pillar, Ng Chye Hock's family believes that all difficulties in life can be overcome no matter how tough the situation is, and they are ready to tackle all challenges in life with courage!
Note: "Buddha Bathing" is a commemorative ceremony on Vesak Day whereby Buddhists bathe Buddha statues with fragrant soup. It has been extended by Tzu Chi volunteers to refer to it as bathing care recipients or those in distress not only to cleanse their bodies but also to help them cleanse the troubles on their minds. As all living beings have the same Buddha nature and would eventually become Buddha in the future, the process is called "Buddha Bathing", signifying that the act not only helps others but also fulfils ourselves.