Disclaimer: All outreach activities mentioned in this article were conducted in accordance with relevant government guidelines before the return to Phase 2 (Heightened Alert) on July 22, 2021.
Tzu Chi volunteers and staff conducting their community outreach for SEEN @ Bukit Batok. (Photo by Bernard Ng Jia Han)
The COVID-19 pandemic has put paid to many plans over the past two years. Air travel has been reduced drastically, businesses have crumbled and life has seemingly come to a standstill. And for the Seniors Engagement and Enabling Node (SEEN) centres run by Tzu Chi Singapore, normal running of activities has similarly been disrupted by the pandemic.
Since their inauguration in September 2019, Tzu Chi SEEN centres at Bukit Batok and Nanyang have been a great boost to the elderly in their communities, offering active ageing, befriending, and care services. SEEN centres differentiate themselves from other senior activity centres with a strong focus on the prevention and monitoring of the health of the elderly. There are also alarm systems installed in the flats of the elderly which are linked to the SEEN centres, allowing contact to be made in times of emergencies. All these efforts have thus supported the government's efforts in promoting healthy and happy ageing.
Furthermore, as announced by MOH in December last year, Tzu Chi is involved in the latest tie-up with the ministry, where the foundation's SEEN centres will be part of a new baseline service acting as go-to points for the seniors in their communities. According to MOH, eldercare centres including SEEN will have to provide an "ABC" suite of services. These would consist of active ageing programmes, befriending, and information and referral to care services. Through the implementation of this baseline service, seniors will be able to age healthily, have prompt access to quality care and remain attached to the community.
Start of Community Outreach
Therefore, in alignment with the objectives laid out by MOH and to maximise the potential of the SEEN centres, community outreach in six neighbouring HDB blocks of Bukit Batok and Nanyang kicked off in April this year, with volunteer training provided beforehand. This door-to-door outreach is deemed essential in forging long-term relationships with the elderly, in hope of attracting them to engage in the activities provided by the SEEN centres. Additionally, it will also help in identifying pre-frail and frail seniors in the community to allow special care to be rendered if necessary.
However, due to the uncertainties of the pandemic, the overall outreach process thus far has been stop-start, with house visits limited to 2 households per day as well. Nevertheless, this has not deterred the dedicated volunteers and staff of Tzu Chi from doing their best within the current constraints. For instance, during the first Phase 2 (Heightened Alert) period from 16 May 2021 to 13 Jun 2021, while physical door-to-door outreach was suspended, the staff of Tzu Chi continued to push on through the use of phone-calling. Appointments were then arranged with the seniors to come down to the SEEN centres for further communication.
Tzu Chi volunteers and staff doing their planning before the outreach. (Photo by Bernard Ng Jia Han)
Stepping Out of Comfort Zone
Volunteer Madam Kum Yeok Chan has been actively volunteering with Tzu Chi since 2016 but still feels that doing outreach requires stepping out of her comfort zone.
"Doing outreach is quite different, and we will have to be more proactive. Some of these old folks might be wary and even unfriendly and fierce, but it's alright as long as we continue to stick by Master Cheng Yen's teachings," she explained.
Madam Kum, who works as a part-time tuition teacher, is regularly part of the SEEN volunteer outreach team at Bukit Batok. While she initially wanted to volunteer only after retirement, taking care of her aged mother led to her realization that she should step forward to help while still healthy and fit. Additionally, the fact that she resides in one of the blocks covered by SEEN has made it easier for her to render a helping hand.
Tzu Chi volunteer Madam Kum Yeok Chan (in blue) engaging the elderly during one of the house visits in Bukit Batok. (Photo by Bernard Ng Jia Han)
Like Madam Kum, SEEN Bukit Batok staff Ms Poh Siyi is also part of the outreach team and she shared how crucial their roles are in the well-being of the elderly in the community.
"These elderly need people to show them care and concern. And all they need is someone to talk to and share the problems that they are facing," said the 53-year-old.
"After doing the outreach, I do feel a great sense of satisfaction and contentment as I come to realise that we are really fortunate to be healthy. I believe that everything we do has a cause and effect, and we should all do our little part to help society as much as we can."
Anything but Smooth Sailing
Despite all the constraints created by the pandemic, the community outreach at both Bukit Batok and Nanyang has managed to reach out to an estimated total of over 200 seniors thus far, with the targeted total of over 450 seniors within sight.
But as pointed out earlier by volunteer Madam Kum, outreach initiatives are often anything but smooth sailing and having to face the wrath of angry elderly who might not understand Tzu Chi's position is no mean feat. Not everyone can bear the constant rejections and unwarranted displeasure being dished out at them during the outreach, and it certainly takes sheer dedication and even greater perseverance for Tzu Chi volunteers and staff to push on.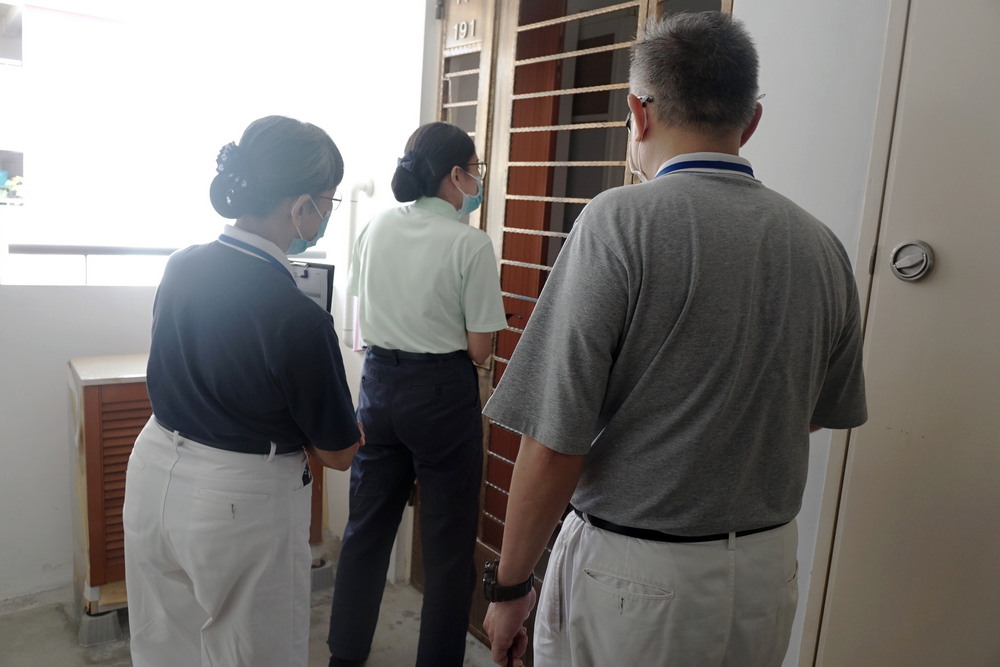 Door-to-door visits are the norm for Tzu Chi volunteers and staff during the community outreach. (Photo by Bernard Ng Jia Han)
69-year-old Tzu Chi volunteer Madam Khong Han Noi is another one of those equipped with first-hand experience from participating in the outreach activities. And she has personally encountered her fair share of less-than-friendly residents but remains determined to view things from a different perspective.
"Some people might be angry as they think that we are intruding on their privacy. However, we will still try to help as much as possible as there are some people who really needs the help and it is up to us, charity organisations to step in," remarked Madam Khong, who has been volunteering with Tzu Chi since 2006.
"It's not easy and new volunteers might be affected and wonder why they have gotten into this for nothing. But the key is to learn to tolerate and put yourself in the shoes of others. Master gave us this challenge to overcome and we have to learn to be thick-skinned."
The spirit and tenacity of Tzu Chi volunteers and staff is clear for all to see. While there are undoubtedly challenges along the way, as long as everyone continue to hold on firmly to the mission of helping the elderly, then no amount of difficulty will be unsurmountable.