Wearing a stylish cowboy beret and riding a lightweight electric mobility scooter, 84-year-old CKD patient Ahamed has his own pace of life and leaves his house on his own for some fresh air every day.
Every early morning, 84-year-old Mr Oh sets off alone from his home in Punggol to help out at a food stall in Toa Payoh. He and his wife, who are both disabled, support each other. After returning home from work, Mr Oh would take care of his wife and pack dinner for her.
Another senior citizen who is also 84 this year, Ahamed, has lower limb weakness. After stepping on the electric scooter with some difficulty, his motion instantly became agile. Ahamed arrived at the nearby market swiftly, seeking respite and buying his wife's favourite breakfast. Ahamed's wife said with a shy smile: "I like to drink coffee, so he buys it for me every day."
Reaching the golden age in life, Mr Oh and Ahamed are both living the life they want irrespective of retiring or continuing working. Both of them were diagnosed with chronic kidney failure last year and chose conservative non-dialysis treatment. Therefore, they are under Renal Conservative (Non-Dialysis) Care Programme, a collaboration between Sengkang General Hospital (SKH) and Tzu-Chi Foundation (Singapore).
There is always a familiar figure appearing in front of their doorstep at least once a month. Esther Koh, a community nurse, jumped out of the e-hailing car and dragged her suitcase toward her patient's home. At the doorstep, she called Ahamed. She then deftly pushed open the unlocked door to begin the nursing care for that afternoon.
After being diagnosed with kidney failure at the end of last year, Ahamed decided not to undergo dialysis because his family could not cope with the additional burden of caring for a dialysis patient. After a thorough assessment and discussion with Ahamed and his family, he was then referred to Renal Conservative (Non-Dialysis) Care Programme in January this year.
"Come on, have some coconut water. I know you like it," said Ahamed.
Ahamed slowly got up from the sofa and went to the refrigerator to take out the young coconuts he bought from the market in the morning. He then cut open the coconuts and served everyone. He later took out the erythropoietin (commonly known as the "blood-booster") from the refrigerator and also his blood pressure and blood sugar record book.
"I usually let them handle it by themselves," said Esther Koh.
Esther had been sitting on the sofa and didn't get up to help. Being vigilant as a nurse, she had actually observed Ahamed from the moment she entered the house. She assessed whether Ahamed's feet were swollen and whether there was any difficulty in Ahamed's mobility.
The two conversed in Malay as if they were friends rather than patient and nurse.
"We must use the language that the patient is familiar with," she added.
Esther, who is fluent in Malay, English, Chinese, Cantonese, Hokkien and Teochew, usually finds out about her patient's physical condition, diet and lifestyle, emotions and household financial situation through routine conversation. She would also refer her patient to medical services, social workers, psychological counselling services etc. whenever necessary.
While chatting with Ahamed, Esther took out a blood pressure machine, glucose meter and thermometer from her suitcase to measure his blood pressure, blood sugar level and body temperature. She then administered erythropoietin subcutaneously and carefully recorded her observations in a notebook. The data would then be entered into the electronic medical record system.
"Whenever there is any abnormality, such as low blood pressure, we will inform the doctor so that the doctor can evaluate and recommend the appropriate action plan," she explained.
Esther continued to explain common symptoms in patients with kidney failure, such as swollen legs, dry and itchy skin, and insomnia. If these symptoms are not well controlled, their quality of life will be affected, for example, limiting their mobility and function. These symptoms must be recorded in the system so that when other nurses or doctors visit the patient in the future, they have a better understanding of the patient's condition.

Ester Koh (right) carefully recording her observations in a notebook.
After the nursing care, she chatted for a while before bidding goodbye to Ahamed. If everything goes well, they will meet again next month. Esther carefully closed the door and booked the next e-hailing car as she had to visit two more elderly CKD patients in the same afternoon.
Establishing Alternative Treatment for Kidney Failure Patients
Kidney failure, also known as end-stage kidney disease, is a health problem where kidney function is severely impaired, leading to the building up of toxins, wastes, and excess fluid in the body. In Singapore, 5.7 people are diagnosed with kidney failure every day, and some of the kidney failure patients are older adults in their 70s and 80s with chronic diseases, just like Ahamed.
Common treatment options for kidney failure are haemodialysis (HD), peritoneal dialysis (PD) and kidney transplantation. While Ahamed did not fully understand the similarities and differences between these treatments in detail, he could clearly explain the reasons for not choosing either.
Initially, he was very resistant about going to the dialysis centre three times a week, four hours each session for haemodialysis. As a person with mobility issues, Ahamed said, "The taxi fare for the round-trip alone costs SGD40. I am now retired and have no income."
The doctor's assessment was that haemodialysis requires an arteriovenous fistula, and there are risks of unstable blood pressure due to his weak heart. Hence, the doctor suggested Ahamed to consider doing peritoneal dialysis at home, but he found it very cumbersome. With poor eyesight, he has no confidence in handling the peritoneal dialysis machine and performing the exchanges procedure on his own. Moreover, his wife is unable to assist him due to Parkinson's disease.
Nevertheless, be it having haemodialysis three times a week, or having peritoneal dialysis for ten hours a day, it means a considerable loss of freedom to move around. Mr Oh is equally worried that he would not be able to live the same quality of life he has in his old age if he were to choose dialysis. Mr Oh shared: "If I go for dialysis, who will take care of my wife? I'm already worried about her even when I go out."
When confronting the decline in health and physical function and being unlikely to recover their kidney function, several elderly CKD patients consistently stressed to the journalist: "I have lived to this age, I don't want to endure the suffering from sickness and the burden of treatment."
Mr Oh said calmly and firmly: "The doctor told me that adults in their 40s may live longer if they choose to do haemodialysis. But I am already in my 80s and can only live for a few more years at most. So, I told the doctor to just give me medicine."
According to the literature, frail elderly patients with multiple diseases can only prolong their life by one to two years after having dialysis. Even though the elderly CKD patients might survive longer with dialysis, they might not wish to spend such quality of life in their remaining years. Would they have any alternative option?
With much effort, Sengkang General Hospital (SKH) and Tzu-Chi Foundation (Singapore) jointly launched the Renal Conservative (Non-Dialysis) Care Programme for elderly and frail CKD patients who are 60 years or above. The objectives of this pilot project are to understand better these patients in supporting them in the community, optimise their care to slow down kidney disease progression, manage complications, and control symptoms through a holistic approach to maintain their quality of life. This programme also includes the discussion of advanced care planning (ACP) and timely transit to palliative or hospice care.
The programme was launched in May 2021 and will be supported for a period of three years. Kidney failure patients will be assessed and referred by Sengkang General Hospital, and the community nurses will provide regular home visits.
Supporting CKD patients in going through the changes in their health
After deciding on conservative non-dialysis treatment and being enrolled on the Renal Conservative (Non-Dialysis) Care Programme, Mr Oh believed that this was a better choice than going to the hospital or the dialysis centre frequently in his later life.
"I can now work six days a week without feeling tired at all," he said with a smile.
At present, a community nurse would visit Mr Oh once a month to administer erythropoietin for him. As a result, the interval specialist outpatient visits for Mr Oh have been extended from three monthly to four monthly.
Every time Mr Oh (left) goes to the hospital for a follow-up visit, he would bring home a big bag of medicines that would last for several months. Esther (right) is explaining the purpose of each medicine to Mr Oh. (Photo by Holly Foong)
Not having dialysis does not mean giving up treatment. When dialysis is not suitable for certain patients, this programme provides supportive measures to maintain the quality of life for these CKD patients. Community nurses play a pivotal role in this programme. In addition to administering injections and providing wound care, the nurses also spend time talking with their patients to understand their challenges and needs, as well as discussing with nephrologists whenever necessary. The nurse would also refer the patient to social workers if required.
When Esther arrived at the doorstep, Madam Lee, a 73-year-old CKD patient, vented out in Hokkien that the itch and rashes on her arms were still unresolved and that she suddenly became lethargic and groggy lately. All these, coupled with having diarrhoea in the past two days, made her very uncomfortable.
After listening to Madam Lee attentively, Esther explained to her: "When the toxins in the body cannot be excreted, they will keep accumulating. When the toxins 'surface' through the skin, your skin will itch." She also comforted Madam Lee by telling her that the doctor had prescribed an anti-itch cream and reminded her to apply moisturiser to her dry skin more often.
Because of the decline in kidney function, these patients get fatigued quickly. After knowing Madam Lee's diet and lifestyle better, Esther asked Madam Lee to split and space out these 20 or more pills in a day and then monitor her progress for a couple of days. The nurse also noticed that Madam Lee had dry lips due to diarrhoea for several days, but she had to be careful in controlling her water and salt intake. Esther repeatedly reminded Madam Lee's daughter to bring her mother to see a doctor and pay more attention to any changes in her health condition.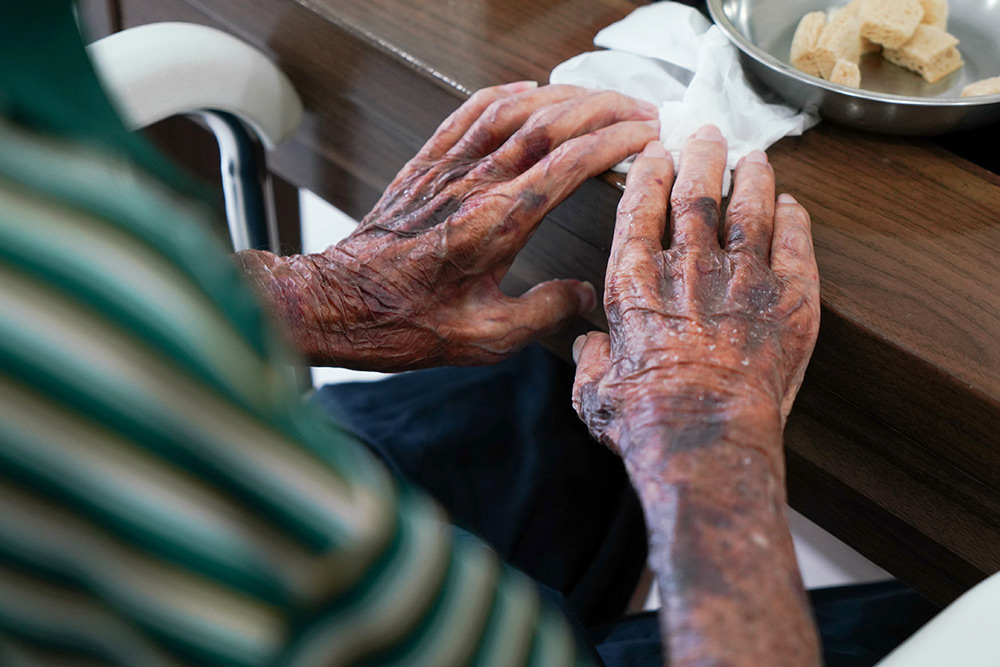 CKD patients often suffer from itchy skin due to uraemia and dry skin.
Esther managed to ease Madam Lee's anxiety by listening attentively, explaining the situation to her and reassuring her. Mdm. Lee felt helpless and impatient due to the fluctuation in her condition.
"We've never experienced all these. We don't know what to do. Now that you have explained to me, I can find my way to move on," she remarked.

Madam Lee was filled with gratitude and described the nurse as a "guide" on her journey in seeking medical treatment.
"We (nurses) don't just check blood pressure and blood sugar, and give injections during home visits. Some patients also do these on their own. The professionalism of community nurses is very important. We are helping the doctors to monitor the patients in the community and looking after their well-being," said Lai Mee Horng, another home care nurse who is part of this programme.
She emphasised that each home visit should be completed within an hour. Careful observations, knowledge and skills of the community nurses are key to ascertaining the quality of the home visit.
"For example, when we notice a patient having breathlessness, fatigue or swollen leg, we have to consider whether the kidney function has declined. If the CKD patient develops a fever, we have to assess for any infection involving the lungs, urinary system or wounds. We have to contact the doctor based on the assessment, then the doctor would prescribe medications such as antibiotics to treat the infection. Therefore, prompt treatment and prevent hospitalisation," she added.
"When the patient feels dizzy, this can be due to anaemia or other causes. We must assess, monitor closely and consult the doctor when necessary. Fall may pose a danger for elderly CKD patients. We must understand the cause of the fall as soon as possible and educate caregivers on the measures to prevent falls."
Lai Mee Horng has been serving as a community nurse for 25 years. She shared about the types of emergencies that could arise during nursing care. As a medical frontliner, nurses are quick in noticing the subtle changes in the patient's body and are able to respond in time.

Community nurse Lai Mee Horng (left) emphasised that within the one-hour home visit, careful observation, knowledge and skills are critical because nurses are tracking the patient's health condition on behalf of a doctor.
Supporting Elderly CKD Patients to Live the Life They Want
In the interview with Dr Teh Swee Ping, a nephrologist at Sengkang General Hospital pointed out that not all patients with kidney failure would benefit from dialysis.
He shared: "It doesn't necessarily increase the life expectancy of an elderly patient, but the patient will definitely have to spend a lot of time in the dialysis centre and may be hospitalised repeatedly due to blockages of the vascular access, infections or other complications."
The patient and family will discuss on various treatment options when reaching advanced CKD. The advantages and disadvantages of each treatment modality. These would help the patient and family navigate their decision-making and customise to the individual's condition with a "patient-centred" approach. Dialysis is a choice and not mandatory for every elderly frail patient who might not do well. Thus, conservative non-dialysis treatment is the alternative option for these patients in order to maintain their quality of life.
Dr Yeoh Lee Ying, a nephrologist at Sengkang General Hospital, said that more studies had been done to estimate the life expectancy of patients with terminal cancer. However, the clinical course of patients with end-organ failure is more difficult to predict. Their conditions might fluctuate, and symptoms usually increase in the last few weeks of life in patients with end-stage kidney disease.
Dr Yeoh shared that some patients suffer from debilitating strokes or advanced dementia where the risks of dialysis might outweigh the benefits. Not only would it be suffering for these patients, but it also incurs a substantial burden on the family in caring for them. She asked: "The average life expectancy of Singaporeans is 83 years. If these patients undergo dialysis, can they live for another five to ten years? Even if they can, is there any quality of life?"
When the patient and family have decided on conservative non-dialysis treatment, they would be briefed about the subsequent care plan. Dr Teh further explained that the frequency of having pain, dyspnoea, nausea, vomiting, and itch in patients with end-stage kidney disease is relatively high. The medical team would support the patients in controlling these symptoms in order to maintain their quality of life.
Dr Teh also stressed that patients should be fully informed of their overall condition and have a say in what is important to them.

Community nurses play a pivotal role in this nursing care programme. After providing nursing care, Ester (right) chatted with Ahamed (left) for a while before leaving.
Singapore's policy has changed in recent years to support the growth of the silver society. Various action plans have been in place to promote successful ageing in the community. Thus, the Renal Conservative (Non-Dialysis) Care Programme is one of the important services to support elderly CKD patients dwelling in the community.
Dr Teh said that community nurses and social workers play a pivotal role in the renal conservative care programme. Besides monitoring the patient's condition and progress and controlling their symptoms effectively and promptly, the nurses also assist CKD patients in making advance care planning (ACP) and providing psychosocial support to the patients and their families. In addition to respecting the patient's right to decide for themselves, the nurses will also need to guide their family members to honour the patient's values and preferences.
Dr Yeoh also mentioned that complexity arises when the family does not know the patient's preferred care plan. When approaching end-of-life, the patient loses the capacity to decide, yet the family might be uncertain and struggle in dealing with the uncertainties, subjecting the patient to invasive procedures with risks involved, which might or might not align with the patient's goals of care.
When approaching end-of-life, what is the ideal way of receiving care? With a decision to make at the crossroads, how can we live a good quality of life and die with dignity? There is always a limit to dialysis. Searching for the appropriate treatment that aligns with the individual's values and preferences in particular the ageing population is important. The Renal Conservative (Non-Dialysis) Care Programme is an alternative option to support those patients who might not do well on dialysis.