Disclaimer: All activities depicted in this article were conducted in compliance with the COVID-19 rules and regulations at that given time.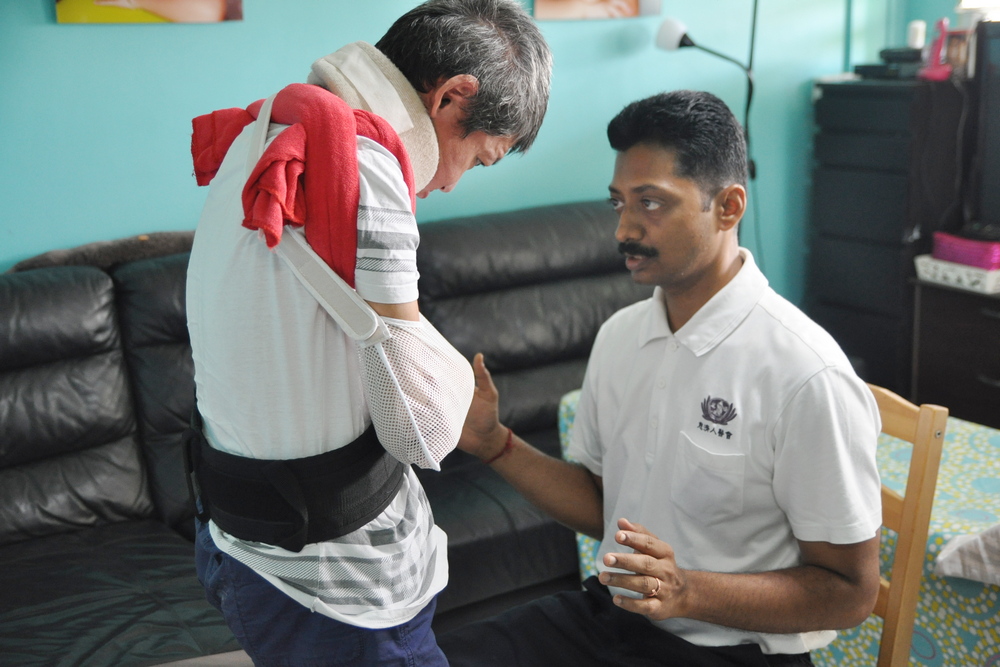 Tzu Chi DRC Chief Physiotherapist Mr Jothiramalingam Vinoth conducting home therapy treatment for a patient. (Photo by Teh Siau Tong)
As a child growing up in India, Mr Vinoth had his eyes set on becoming a doctor. However, when he realised that his pre-university grades were not sufficient to get him into medical school due to the high level of competition, he decided to switch paths. At that time, his uncle had told him about the promising career prospects of physiotherapy and he was swayed. During his first semester in university, Mr Vinoth's interest in the subject gradually grew as he started to realise the importance of physiotherapy on both physical and mental health.
Upon graduation, his work as a physiotherapist gave him the opportunity to work in several places including hospitals and academic institutions in India and Saudi Arabia. Then in 2007, Singapore came up as another possible destination when Mr Vinoth decided that it was time to seek opportunities abroad once more. He eventually took up the role of a rehabilitation manager at Orange Valley Nursing Home and it signalled the start of his time in our cosmopolitan city.
However, while Mr Vinoth started working in Singapore in the 2000s, his affinity with Tzu Chi did not arrive until much later on. In 2015, veteran TIMA (Tzu Chi International Medical Association) doctor, Edwin Lim, introduced Tzu Chi and subsequently extended an invitation for him to join the organisation. The duo had previously worked together for over six years at Orange Valley and were well-acquainted with each other.
"He gave me a briefing about how big Tzu Chi was and the kind of contributions it had been making around the world. At that time, I was looking for a place with good clinical interactions and exposure, and it was a good opportunity to join the clinical side as a therapist," shared Mr Vinoth.
And after taking the first step into Tzu Chi, the 44-year-old has not looked back since. While Mr Vinoth today juggles work between several areas including the DRC, two Senior Engagement and Enabling Node (SEEN) centres in Bukit Batok and Nanyang, Lakeside Family Medicine Clinic and home rehabilitation, it wasn't the same at the beginning. Back then, the organisation's rehabilitation services only focused on home therapy but it was also through this work where he saw the true spirit of Tzu Chi and its dedicated volunteers.
"I saw how Tzu Chi volunteers played a significant role in the organisation. There was a great humanistic touch in the work that we were doing. Tzu Chi's focus was always about how to deliver the best possible care to the patients," said Mr Vinoth.
"It's not just about treatment but also showering them with love and care. We try to pass on the compassion and Tzu Chi values, and this was something that really touched me."
Mr Vinoth in the midst of helping out a patient with some stretching exercises. (Photo by Chan May Ching)
Mr Vinoth demonstrating a hand exercise to a patient. (Photo by Chan May Ching)
Adapting Seamlessly
Hailing from the southern part of India, one would expect Mr Vinoth to face some issues assimilating into the predominantly Chinese organisation of Tzu Chi but he has never had any problem adapting. Even the issue of a possible language barrier was not an obstacle towards him carrying out his work with the patients. His adaptability could also be due to the fact that he had spent several years in Singapore prior to joining Tzu Chi.
During his stint at Orange Valley, he had adopted a positive mindset of trying to understand the local culture and people surrounding him rather than the other way around. And this mentality has reaped dividends for him as communication with the locals regardless of race or language has never been an issue. In fact, after joining Tzu Chi, he felt that the rapport between him and the locals had gone up another level as a result of his strong bonds with the volunteers. Whenever he encountered problems understanding patients who spoke in dialect during house visits, the volunteers would always be there to back him up. Their constant presence and willingness to help have made Mr Vinoth's work in Tzu Chi that much easier.
"I'm really blessed to be in Tzu Chi as the volunteers are always around to help me," he remarked.
"When we first opened the DRC in 2016, we faced manpower challenges. At that time, it was a testing period as we still had to conduct home therapy and then return to the centre to continue the work. But we had a group of rehabilitation volunteers who were so regular, punctual and sincere. And it was because of their support that we were able to run the centre smoothly for that year."
While the dedication and passion of the Tzu Chi volunteers have been emphasised by Mr Vinoth, these qualities are also clearly evident in the man himself. When queried on what is his main motivation, his reply perfectly exemplified the zeal he had for his work.
"I'm a self-driven person and I don't need any motivation," he said nonchalantly. "I don't see this as a workplace. If I did, I would need to constantly keep myself motivated to do things and meet deadlines."
His colleagues and regular patients have personally witnessed his professionalism and passion for the job. Several of them have also benefited from his help and guidance over the years.
Said assistant therapist Ms Lai Pei Ting: "He is very passionate and caring in the way he does treatment. He would put himself in the shoes of his patients and empathise with them. Many have said that they benefited from his treatment and have even likened him to a magician.
"He is very experienced and even through simple questions, he is able to find out the root of the problem. For him, it is not just about pain management, he also hopes to improve the quality of life for the patients."
One of these patients who has been under Mr Vinoth's conscientious care would be stroke patient Mr Poh Peng Wan. Having undergone therapy under Mr Vinoth for many years, Mr Poh has been impressed by his work ethics.
"He is very passionate, helpful and knowledgeable," shared Mr Poh. "Doing the stretching exercises under him, I feel that my condition has improved."
Assistant therapist Ms Lai Pei Ting (left) supporting Mr Vinoth during one of the therapy sessions at the DRC. (Photo by Pan Zaixiang)
Stroke patient Mr Poh Peng Wan (centre) seen here undergoing therapy treatment. (Photo by Pan Zaixiang)
Religion and Spirituality
Looking deeper beyond the physiotherapy support that Tzu Chi provides, the organisation is one that was founded upon the ideas of Humanistic Buddhism. Having been brought up in a Hindu family, one wonders if religion was ever a barrier for Mr Vinoth in assimilating into the organisation.
"Although I come from a Hindu family, I did not understand anything about the religion growing up. I do not have any connection with it and my longing is more towards spirituality, enlightenment and self-realisation," he shared. "For me, I do not identify with any particular religion and I believe that each has its own way of learning."
After almost 15 years in Singapore, Mr Vinoth is well and truly settled here on our sunny island. He has brought his parents to live here and his two kids are also being raised here. There is a great sense of belonging when he talks about how his children exhibit many Singaporean traits. Likewise, Tzu Chi has also become a home for Mr Vinoth. He has been able to derive greater meaning from his work here as compared to anywhere else.
"Here at Tzu Chi, we provide very sincere service from the heart as we are not driven by money. I find the working atmosphere very supportive as it allows me to grow both professionally and spiritually. It's a very powerful space which gives you better clarity and understanding of life," he added.
"The working relationship between everyone is also very harmonious and we would always put aside our differences to work for society. This is not just a workplace, it is something beyond."
Mr Vinoth has brought his mum (centre) to Tzu Chi events in the past such as the Interfaith Prayer Ceremony held at Singapore Expo in 2015. (Photo by Lim Beng Chai)
Mr Vinoth seen here giving a briefing to his staff. (Photo by Chan May Ching)