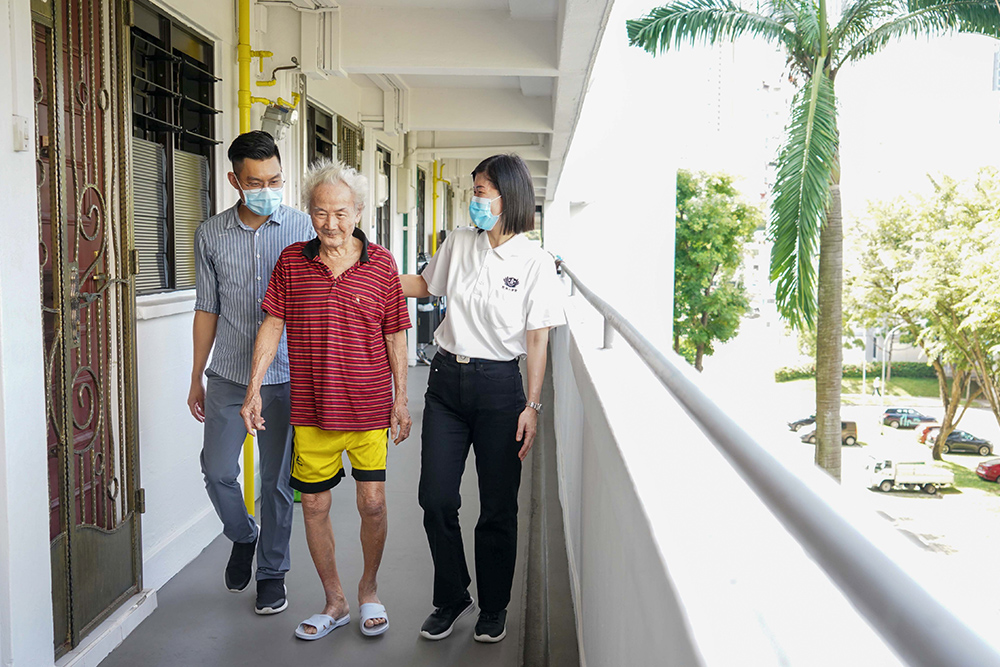 Many aspire to age at home to enjoy independence and happiness in one's familiar environment. (Photo by Chan May Ching)
"I don't need to take high blood pressure medicine?"
"When do I need to start eating again?"
"Tell my husband that I don't need to take it anymore."
Madam Toh kept double-checking with her home care nurse Ms Choo Mei Mei ever since she reminded her to suspend the hypertension medication.
"Yes, you don't have to eat. Your husband will remind you."
Lightly patting Madam Toh's hand to soothe her, Ms Choo has been answering the same question since she entered the house, leaving Ms Choo unsure whether to laugh or cry. However, it was a warning sign that Madam Toh's memory has further deteriorated.
Nurse Ms Choo Mei Mei makes monthly visits to provide nursing and consultation services to Mr and Mrs Toh. (Photo by Chan May Ching)
At that moment, 88-year-old Mr Toh patiently sat on the bed, awaiting his scheduled nursing care. Madam Toh has been bedridden after suffering a fall. Mr Toh has since been taking care of her basic needs, such as making her breakfast, bathing her and doing her laundry. However, the seemingly tough Mr Toh had also suffered injuries from two falls last year.
Although their only son visits them on his days off and regularly brings them to stay at his place, leaving two elderly people alone at home during the week can be very unsettling.
Madam Toh has been bedridden since her fall, unable to perform tasks such as making breakfast, bathing, and doing laundry. Throughout this time, Mr Toh has been patiently waiting and caring for her. (Photo by Chan May Ching)
Community support enables elderly to age at home with peace of mind
Currently, the Tzu Chi home care team visits Mr and Mrs Toh once a month and provides them with weekly physiotherapy. A 24-hour charging iPad sits on the cabinet in the room and can be used to make emergency calls at any time with one click on the app. It turns out that the old couple also receives care services from two other community agencies, including having two meals delivered to their homes daily and weekly cleaning services.
The shrinking of family sizes has dramatically changed the structure of our society, making it common for the elderly to look after each other. The community's varying degrees of medical care and everyday living care services are critical to this couple's "survival" at home.
Community organisations provide daily lunch and dinner deliveries, which means Mr Toh only has to prepare a simple breakfast for himself and his wife. (Photo by Chan May Ching)
Mr Toh recently tripped over an object, injuring the back of his head. Since there were no visible wounds, he decided to wait for his son to return from work before seeking medical assistance. His son hurried home upon hearing the news and took his father to the doctor. Thankfully, the medical examination revealed no severe issues, which prompted a collective sigh of relief. Mr Toh remained composed and reassuring, saying, "No need to worry, there's nothing to fret about at my age!"
Following a minor head injury in addition to his leg injury, Mr Toh persists in managing his daily life alongside Madam Toh. After consulting with the hospital, the home medical team increased the frequency of home care and physical therapy sessions for the couple. Mr Toh displays great cooperation, diligently performing rehabilitation exercises at home and consistently remembering the physiotherapy steps.
Physiotherapist Lim Beng Kooi measures Mr Toh's joint range of motion. (Photo by Chan May Ching)
Physiotherapist Lim Beng Kooi requested Mr Toh to retrieve towels from his home and then guided him to complete new exercises on the bed. In this exercise, Mr Toh grasped both ends of a rolled towel with both hands, placed one foot in the middle, and kicked it forward while synchronising his breath. Lim Beng Kooi complimented his execution, stating, "It's executed beautifully, but sometimes you need to go a bit slower and exercise caution."
Mr Toh beamed with a bright smile and proudly exclaimed, "I used to struggle to bend down and put on my pants, but now I can easily do it while sitting down."
Lim Beng Kooi emphasised that even without specialised equipment at home, one can achieve effective rehabilitation by creatively using everyday items. Simple towel exercises can enhance muscle strength, improve body flexibility, and carry a lower risk of injury. He also reiterated the importance of being cautious about any clutter or obstacles in the home's walkways to minimise the risk of accidents.
Mr Toh uses the home-installed wall pole to practice micro squatting. (Photo by Chan May Ching)
Elderly rehabilitation training emphasises the importance of independent care
In contrast to Mr Toh's active self-reliance, Madam Toh's experience has been quite different. In early 2022, Madam Toh had a fall while going to the toilet. Although she recovered well in the hospital and had no major health issues, it was not difficult to care for her. However, she became afraid of walking after the incident and has since been bedridden for more than six months. Mrs Toh would rather wear an adult diaper than leave her bed, and she would spend her days at home watching TV.
But for Madam Toh, staying at home due to illness might have its silver lining. Within the comfort of her home, battling chronic diseases has become just one facet of her life, and she enjoys the freedom to "do as she pleases."
Despite her extended period of bed rest, Madam Toh retains her sense of aesthetics. Upon receiving guests at her home, she takes the time to brush her hair and put on brightly coloured clothes, and her biggest wish is to go out and visit a hair salon for a shampoo and hairstyling session.
Upon learning of Madam Toh's desire, Ms Choo Mei Mei brought dry shampoo and endeavoured to dry-clean her hair. With a heartfelt promise to "help you look your best," Ms Choo Mei Mei's foray into DIY hairstyling elicited a contented and joyful expression from Madam Toh.
Over time, trust began to take root between the medical team, nurses, and the Toh family. After months of patient persuasion and heartfelt encouragement, witnessing Mr Toh's remarkable strides in rehabilitation, Madam Toh finally felt willing to explore the potential of physiotherapy for herself.
Madam Toh was initially reluctant to leave her bed, so the physiotherapist, Lim Beng Kooi, encouraged her to start with simple bed-based rehabilitation training to help boost her confidence. (Photo by Chan May Ching)
During the initial two rehabilitation sessions, both Madam Toh and the physiotherapist had to make adjustments and find common ground. Madam Toh hesitates to leave her bed, preferring to undergo physiotherapy while confined to the hospital bed. Lim Beng Kooi, her physiotherapist, kept encouraging her and tried to lower her goals and expectations. He told her to start simple — just practice getting out of bed into her wheelchair, with no immediate emphasis on standing exercises.
Despite her initial doubts, fears, helplessness, and eagerness to end the session early, Madam Toh completed this week's exercises with the encouragement and support of her physiotherapists and the assistant. Finally, she was able to transfer to a wheelchair and even attempted to manoeuvre it on her own. She took a stroll around the corridor, rekindling her motivation and noticeably boosting her self-confidence.
Physiotherapist Lim Beng Kooi explained that pain can instil fear of movement, and when people are too afraid to move, their physical condition will deteriorate. This sets off a vicious cycle, underscoring the critical role of physical therapists in breaking this cycle and restoring physical well-being.

With the encouragement and assistance of her physiotherapist and the assistant, Madam Toh (second from left) not only completed her wheelchair exercises for the week but also took a wheelchair ride around the corridor. (Photo by Chan May Ching)
There are often numerous challenges on the road to recovery for the elderly. When it comes to gauging the effectiveness of motivating them to regain their health and alter their lifestyle, there is no fool proof measure. This journey demands a great deal of patience and mutual trust. Nurse Ms Choo Mei Mei emphasised, "We can provide continuous guidance, but ultimately, we must respect and honour the patients' choices regarding their preferred lifestyle."