One of Jing Si Books and Cafe outlets at Sims Avenue (Photo by Lai Tong Heng)
Cafés in Singapore are aplenty. From Korean-themed cafés to ice-cream centric ones, nearly every type can be found in sunny Singapore. As for Tzu Chi Singapore, the organisation has also been running its own cafes in the country since 2004. Named Jing Si Books and Cafe, there are currently two of such cafes in Singapore, with a third being primarily a book hut.
Unlike some other perhaps more regular cafes out there, there is a deeper backstory behind Jing Si Books and Cafe. The name "静思" (Jing Si) means "silent contemplation" and stems from Master Cheng Yen's self-given Dharma name. Back in 1966, Master and 30 local housewives (her lay disciples) began their humble work of helping the poor. To raise funds for their charity work, Master asked them to save NT$0.50 each day in a bamboo coin bank. At the same time, Master and her monastic disciples made an effort to maintain self-sufficiency by not drawing a cent from Tzu Chi's charity funds.
The monastic group has continued sticking by the principle of "No Work, No Meal" until this day at the Jing Si Abode in Hualien, Taiwan, sustaining their livelihood through ways such as making handicrafts and engaging in farm work. Later, Tzu Chi's own publishing house, "Still Thoughts Cultural Mission" (later renamed as "Jing Si Publications"), was established. Various books and audio-visual products were published, with the aim of passing on the Jing Si Dharma Lineage and bringing love, purity, and joy to hearts and minds. The income generated by the sale of Jing Si's products subsequently also supported the living expenses within the Abode.
Therefore, these cafes and book huts, which are established all around the world today, tell the story of Tzu Chi's self-sustainability and aid the spread of Master's wisdom through her books and significant Jing Si products.
Stepping into the Cafe
Entering any of these Jing Si cafes or book hut here in Singapore, one would immediately be greeted by a feeling of tranquillity and calmness. The peaceful atmosphere is unmistakable and customers can often be seen savouring a cup of tea while others would be browsing through the various interesting products that Tzu Chi has to offer.
"The pace of Singapore is very fast and Master wants the book cafe to be a quiet place for people to feel comfortable in," explained Ms Teh Soo Peng, who is the supervisor overseeing the cafes and book hut. "It is a place filled with positive vibes, and anyone who walks in and picks up a book will be able to understand what Tzu Chi is all about."
Beyond the books of wisdom sold at the cafes and book hut, various intriguing items are also available for purchase. These items range from healthy vegetarian food items to reusable utensils and even environmentally-friendly body wash. One of the more interesting items on display would be the Jing Si Instant Rice. As explained by Jing Si Book Hut store manager Ms Koh Hwee Lin, this inconspicuous rice item has a fascinating backstory.
She shared: "This instant rice is actually meant to be given out to the victims during disaster relief efforts. Given that there is usually no electricity in those areas affected by disaster, this instant rice will come in handy as you will be able to cook it simply by pouring water."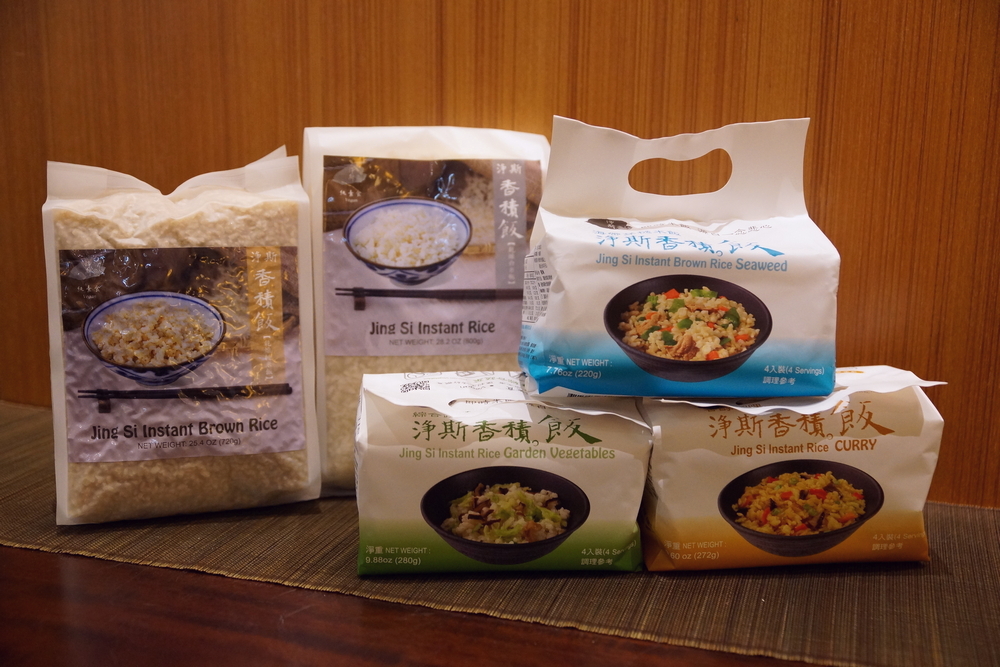 Different types and flavours of Jing Si Instant Rice on display. (Photo by Chan May Ching)
The external view of Jing Si Books and Cafe at Sims Avenue. (Photo by Chua Teong Seng)
Regulars and Volunteers
As much as food and drinks are crucial life-savers, they are also important elements in forming bonds between people and places. And this is what Jing Si Books and Cafe has been able to offer. While the typical cafe sandwiches and ice-cream are missing from the menu, items such as soothing oolong tea, fragrant coffee and even tasty vegan pastries on the weekends more than make up for it. At the Sims Avenue branch, it has its fair share of regulars who constantly return to the cafe just to sit down for a drink and soak in the peaceful environment. Some of them started out not having heard about Tzu Chi but gradually became more aware of the story behind the cafe as well as the organisation.
"There are many regulars here but we will always try to attract more new customers. One of the current regulars here has lived in this area for a long time but was never aware of the cafe previously. After we managed to introduce the cafe to her, she now comes routinely every Saturday to order a cup of coffee," recounted the Sims Avenue branch store manager Ms Quah Lay Beng.
Another regular customer who has been ever-present at the Sims Avenue Jing Si Cafe would be long-time Tzu Chi volunteer videographer Mr Lim Kim Koon. He frequents the cafe up to six days a week and thoroughly enjoys its conducive and loving environment.
"I don't live nearby but I drive here every day to visit the cafe as it has a very good environment. I come here so often that now I will just leave it to the service crew to decide my order," remarked Mr Lim, who works as a financial advisor.
Other than Mr Lim, many other Tzu Chi volunteers also drop by regularly across all three outlets to help out with basic chores and operations. This has thus allowed Jing Si Books and Cafe to maintain its high standards as well as provide an avenue to uphold the spirit of volunteerism.
Star of the Show
Among Jing Si Books and Cafe's three outlets, the star of the show is undoubtedly the Yishun branch located at the highly popular youth-centric Tzu Chi Humanistic Youth Centre (HYC). Situated by the idyllic Yishun Pond, the design of the cafe is very much modelled after Taiwanese classic teahouses, with an indescribable tranquillity surrounding it. Due to its prime location, the cafe has been able to attract more of the public, especially those who have previously never heard of Tzu Chi, to take their maiden steps in.
"90% of the people who come here are new," explained the Yishun branch senior service crew Ms Siow Chiew Duan. "Some of them are curious about what this cafe is all about and we will try to explain to them and introduce Tzu Chi as well. Customers would also often tell us that the cafe is very peaceful and some have even asked whether they are allowed to talk in here."
Ecommerce and Environmental Protection
While Jing Si Books and Cafe has been the main avenue through which Tzu Chi's books and products have been sold, the advent of ecommerce has meant that the organisation has started to embrace sales through online platforms as well. However, as online sales could possibly mean a greater wastage of plastic packaging on items which are meant for delivery, this would thus go against Tzu Chi's environmental protection mission.
But a solution has seemingly been found to alleviate this excess and unnecessary harm to the environment. According to logistics assistant Mr Yeow Joo Hong, Tzu Chi has been reusing cardboard since March 2020 to pack online goods instead of the environmentally damaging plastic wrapping.
"When we first started the option of online shopping, we wanted the items to be packed in a pretty way but soon realised that it was too wasteful," Mr Yeow explained. "So, we decided to reuse old cardboard instead and insert a note explaining to customers the reason behind. And customers have certainly understood and embraced this idea."
Logistics assistant Mr Yeow Joo Hong in the midst of packing products meant for online orders using old cardboard. (Photo by Chan May Ching)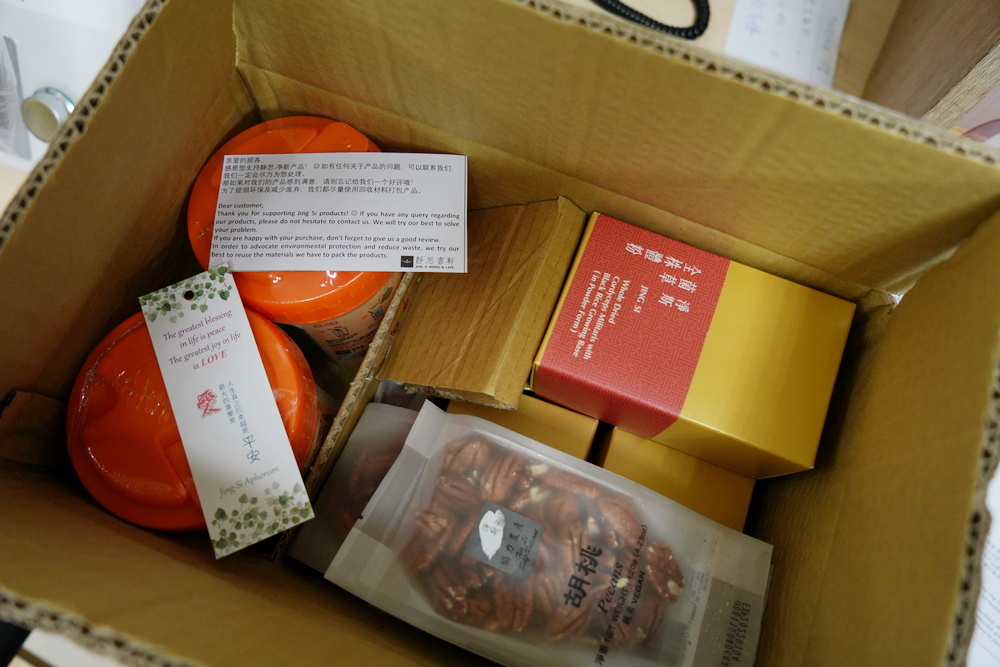 A closer look at what goes into a package meant for an online order. (Photo by Chan May Ching)
With the myriad of backstories, Jing Si Books and Cafe has certainly proven to be no ordinary cafe. Through the encompassing of various humanistic values and societal causes within the cafe model, visitors of the cafe will undoubtedly uncover greater meaning if they were to delve deeper. And when they do, they will discover and understand why it is truly a cafe like no other.
Notes:
Jing Si Books and Cafe (Yishun Branch)
Address: 30A Yishun Central 1, Singapore 768796
Opening hours:
Monday-Friday: 11.30am – 7pm
Saturday: 10am – 7pm
Sunday: 10am – 6pm
Jing Si Books and Cafe (Sims Avenue Branch)
Address: Blk 134 Geylang East Avenue 1 #01-219, Singapore 380134
Opening hours: 10am – 6pm (Closed on Mondays)
Jing Si Book Hut
Address: Level 1, Jing Si Hall, 9 Elias Road, Singapore 519937
Opening hours: 10am – 6pm (Closed on Tuesdays)
Facebook: https://www.facebook.com/jingsibooksncafesg