After two hours of preparation, the steaming hot meal of Kichuri is finally ready for delivery to the Bangladeshi workers. (Photo by Bong Kian Hin)
Tucked in a corner of Singapore's famous tourist spot, "Little India" lies a small community with Bangladesh themed eateries and stores where Bangladeshi workers congregate. The signage on the stores along both sidewalks of Desker Road and Roberts Lane are inscribed not in Tamil but Bengali script. Hence, the area can also be known as Singapore's "Little Bangladesh".
Culinary enthusiasts Syful Sultan and Delovar were accompanied by Tzu Chi volunteers at a minimart at Bangla square on the Sunday afternoon of 18 July 2021 to shop for the familiar produce from their hometown. Syful said: "We come here often before the pandemic to buy foodstuff that is cheap, fresh and of a wide variety." However, what is different now from the past is the mandatory social distancing and masking up.

The signage in English and Bengali are found along the street. (Photo by Teoh Chin Seong)

Manager of Tzu Chi Youth Centre Lim Choon Choon with Syful (right) and Delovar (left) doing grocery shopping at the Bangladesh themed minimart. (Photo by Teoh Chin Seong)
Reminiscing the warmth of hometown while celebrating the festival in a foreign land
Hari Raya Haji (also known as Eid Adha) is the second major festival celebrated among Muslims all over the world. In Bangladesh, where Muslims make up nearly ninety percent of the population, Hari Raya Haji is a joyous celebration with a three-day long holiday. In past years, nearly 150,000 Bangladeshi workers in Singapore would travel back to their hometown for the occasion during this period.
Due to the ongoing pandemic, it is their second year celebrating the festival in a foreign land. It is hard not to miss the must-have festive dish of lentil risotto, known as 'Kichuri'. This traditional dish from South Asia consists of more than ten types of vegetables, legumes and spices. Syful recounted happily: "My family in Bangladesh often prepare this dish during the rainy season to keep our body warm."
Unlike most foreign workers here, Syful and Delovar are staying in a private dormitory where there is more freedom to move around. Prior to the pandemic, they often cooked hometown dishes in the dormitory whenever they feel homesick. However, due to the COVID restriction that limits the social group size, it became difficult for them to flex their culinary skills.
Their roommate Zakir Hossain Khokan, introduced both men in their 30s to Tzu Chi Foundation (Singapore). Zakir is the founder of non-profit organisations "Migrant Writers of Singapore" and "One Bag One Book", which hold artistic and cultural activities to engage fellow migrant workers.
Co-organising activities to improve inter-community interaction
Zakir got to know the manager for Tzu Chi Youth Centre, Lim Choon Choon, through a book fair in December 2020. With common interests, they hope to improve the interaction and relationship between the local community and migrant workers.
In fact, members of Migrant Writers of Singapore comprises not only writers of foreign nationalities, but local authors also interact with migrant workers and domestic helpers through literary works. The pandemic situation has also brought to light the plight of migrant workers whom we have lost sight of and issues of their mental health. Hence, mental wellbeing has become the key focus of collaboration between the Youth Centre and Migrant Writers of Singapore this year.
Zakir shared his experience during the two-month-long circuit breaker period last year. "I witnessed behavioural changes among my roommates in a dormitory room for twelve people. Some went berserk, aggressive and some went into isolation refusing to open up about their emotions. Not only that, there were a few who would wake up in the middle of the night to start praying and even tearing."
Zakir was well aware of the environmentally induced stress that requires counselling support. Hence, he organised meditation and exercise classes through the "One Bag One Book" platform to engage the migrant workers. The overwhelming response to his classes encouraged him to organise a "Mental Health Day" in April at the Youth Centre, a first for the migrant workers.

After getting to know Zakir, Lim Choon Choon decided to combine resources to organise various activities for migrant workers and the local community focusing on mental well-being. (Photo by Bong Kian Hin)

Syful (centre) and Delovar (right) did all the preparation with Jap Ren Huei (left) as the sous chef. (Photo by Bong Kian Hin)
Food as a way to show care and bridge the gap between locals and migrant workers
"It's amazing! This is my first time experiencing such cultural exchange." With the two hours of dedication, Syful who hasn't stepped into the kitchen for a long while was beaming with satisfaction.
As an avid reader, Zakir recognizes that Singapore has been a migrant society and food that the early immigrants brought with them has infused to become Singapore cuisine. Today, migrant workers from Bangladesh, India, Myanmar, the Philippines etc. have not only toiled hard for Singapore but also enriched the culinary options here. "We should introduce the local community to these foods and hope that this can help widen their horizon."
Lim Choon Choon is very enthusiastic when it comes to exploring foreign cuisines. Although she could only observe on the side, the aroma of spices prompted her to give the dish a try when she got home. She shares the same objective as Zakir, and that is to organise events that will excite the migrant workers and not what the organiser wishes to. This Kichuri dish is exactly what the migrant workers have always dreamed of.
Prior to this, Lim Choon Choon had not interacted with any migrant workers but after more than a year of understanding the community group, she started to gain empathy for their plight. She said: "Although the welfare of migrant workers in Singapore is a lot better than other countries, there is still some disparity in how we treat them." An example that she quoted was that most migrant workers can only commute to work at the back of lorries and are unable to buckle up safely during transportation as we do. "Details like these show that we still have some room for improvement."
Migrant workers bringing the steaming hot delicacy into their dormitory at 9.30 pm. (Photo by Teh Siao Ching)
At half-past nine in the evening, they arrived at the private dormitory with the steaming hot delicacy. Zakir, Syful and Delovar called out to his friends to quickly bring the food in. The shining street lamps along the road and brightly lit corridors of the dorm has brightened up the dark night. Not long after, the fellow workers started to dig into the sumptuous meal in their bunk. The Kichuri warmed not only the tummies but also the hearts of the migrant workers before the eve of Hari Raya Haji.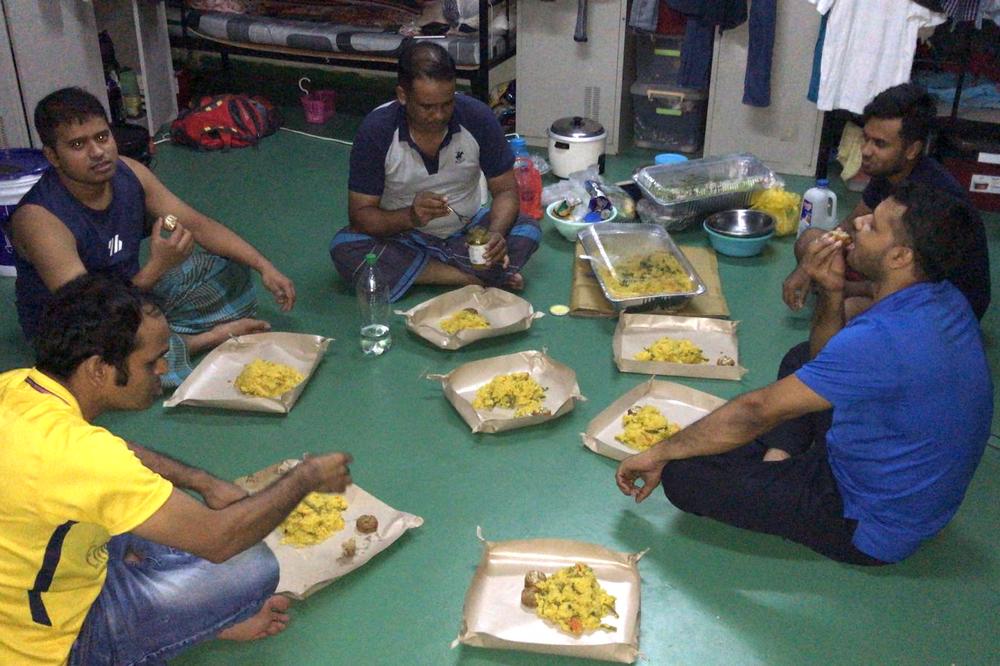 Migrant workers gathering in their bunk to enjoy the delish meal in an atmosphere as though they are back in their hometown celebrating Hari Raya Haji. (Photo provided by Zakir)