Disclaimer: All activities depicted in this article were conducted in compliance with the COVID-19 rules and regulations at that given time.
One of the frontline workers at Chia Ping CIF in the midst of choosing a slip of paper containing a Jing Si Aphorism. (Photo by Khor Chin Seng)
In the past two years, healthcare workers in Singapore have been faced with arguably their toughest challenge - handling the unpredictable COVID-19 pandemic. Although Singapore has largely kept the situation under control, a rise in community cases in recent times has resulted in healthcare workers being stretched to their limits once more. Many have been working for long hours without rest and seemingly no end in sight. Furthermore, the safety requirement of having to don uncomfortable Personal Protective Equipment (PPE) has also made their jobs much harder.
Therefore, in an attempt to boost the morale of some of these healthcare workers, volunteers from Tzu Chi Singapore have been kindly offering their help at Chia Ping CIF. Through setting up a vibrant pantry area filled with food and drinks such as Jing Si Noodles and Tea, it has helped in lifting the spirits of the workers. The presence of colourful Jing Si Aphorisms posters pasted around the CIF has also added warmth to the otherwise rather cold-looking facility.
The pantry area at Chia Ping CIF set up by Tzu Chi volunteers is filled with Jing Si products. (Photo by Chan May Ching)
Volunteers preparing the Jing Si Aphorisms posters to be put up around the premises of Chia Ping CIF. (Photo by Khoo Kean Yee)
Beyond taking care of the pantry area, the volunteers would also take extra effort to brew different types of tea every day and personally serve to the healthcare workers. While this might seem like simple gestures, the impact left on the weary workers has been tremendous.
"Even though they are wearing masks, I can see from their eyes that they are very thankful. They feel very touched as they have never been served like that before, having people around asking what drinks they would like," shared Tzu Chi volunteer Ms Tan Seok Kee.
"When I first came here, I saw the medical workers who had just changed out of their PPE. They were totally drenched and my heart really went out to them. Frontline workers have had a hard time and what we are doing will give them motivation and show that there are people around who care."
Sense of Familiarity
The sight of Tzu Chi volunteers helping out at Chia Ping CIF is not an unfamiliar one as the organisation had previously offered its helping hand at similar Community Care Facilities (CCF) in the past year, including places such as Tuas and Big Box. Some of the healthcare workers present at Chia Ping CIF were also beneficiaries of the support provided by the volunteers previously.
Shared Mr Phang Ying Jie, who is the National University Health System (NUHS) Operations Supervisor stationed at Chia Ping CIF: "Tzu Chi volunteers left a deep impression on me at Big Box CCF last year. They were very friendly and nice, offering us food and drinks. So when I first heard that the volunteers were also coming here, I was really looking forward.
"Another good thing is that we got to choose our own Jing Si Aphorism from the basket. I pasted mine on my laptop as I felt that it was very inspirational and reminded me to persevere on the job."
Mr Gregory Ow, NUHS Operations Director and overall coordinator of Chia Ping CIF, added: "Even though gestures such as serving herbal tea might seem small, they are very much appreciated by the staff who work long hours and might not be able to take their lunch on time.
"I would like to thank Tzu Chi for volunteering to support the frontliners even though it might be taxing. All these small little things and effort will certainly boost their morale."
A basket containing slips of Jing Si Aphorisms which the workers would choose from every day. (Photo by Chan May Ching)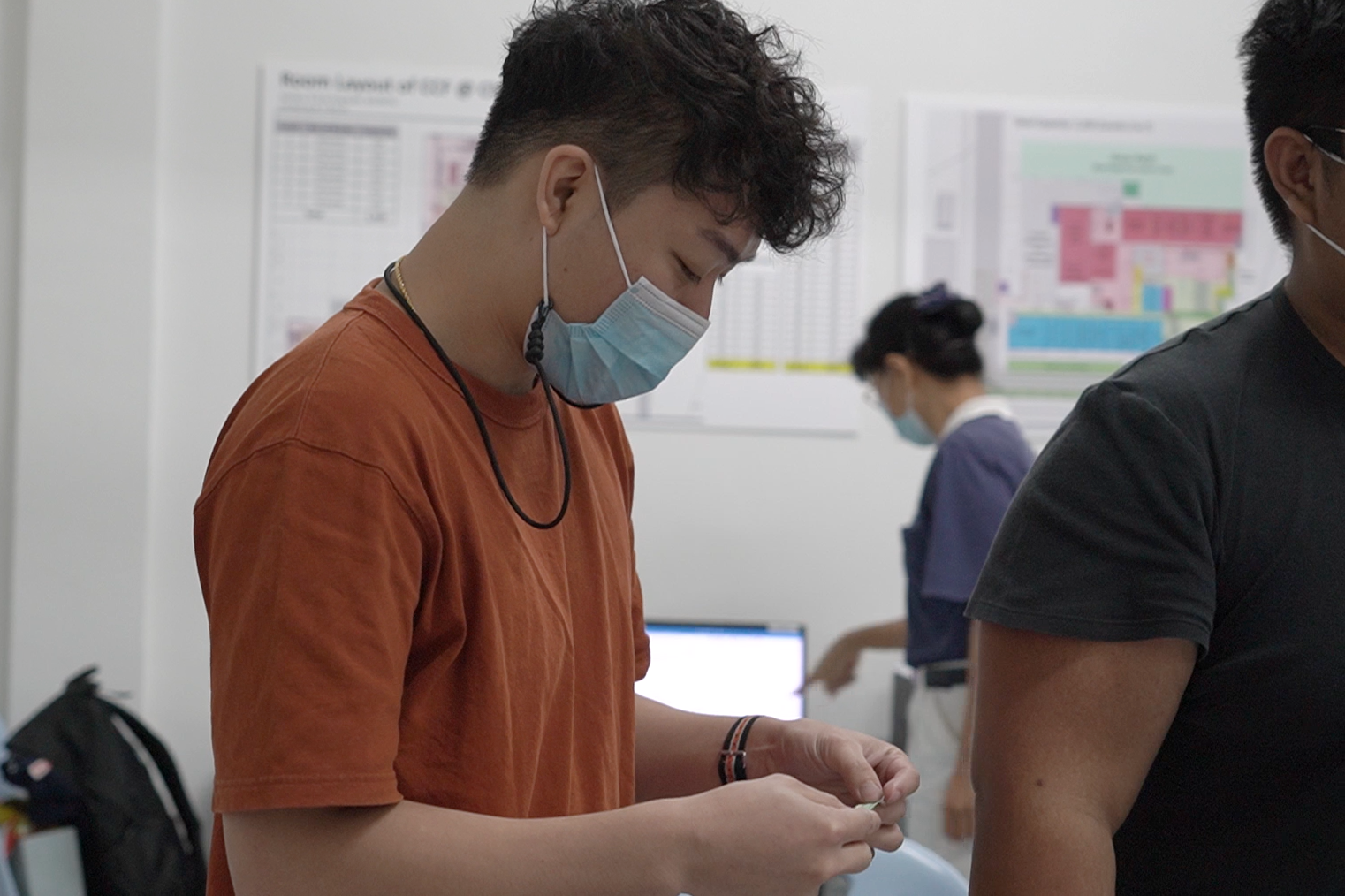 NUHS Operations Supervisor Mr Phang Ying Jie seen here in smiles after reading his chosen Jing Si Aphorism. (Screenshot by Pan Zaixiang)
Reaching Out to the Neglected
While the main focus of the help from Tzu Chi volunteers was aimed at the healthcare workers, the security personnel on duty at Chia Ping CIF were not neglected as well. Volunteers could often be seen pouring cups of tea and serving them personally to the guards. Fruits such as bananas were also brought to them from time to time. With security personnel often overlooked by many in society for their work, they naturally felt comforted by the acts of kindness.
"In our other work assignments, we seldom meet people who would treat us as well. It's usually just 'hi', 'bye' greetings. But here, the volunteers would serve us drinks and food," commented Mr Jack Pang, who works 12-hour shifts as a security guard at Chia Ping CIF. "For us who work long hours under the unpredictable weather, it really helps to boost our morale and warm our hearts."
A tray of food and drinks about to be served to the frontline workers. (Photo by Khor Chin Seng)
Tzu Chi volunteer Ms Siow Chiew Dan passing a Jing Si Aphorism booklet to security personnel Mr Jack Pang (right). (Photo by Chan May Ching)
In a trying and difficult pandemic period, everyone would undoubtedly have their own share of problems to handle. But in the midst of all the incessant chaos, Tzu Chi has not forgotten the contributions of the various unsung heroes on the frontline. While the gestures of serving food and drinks might seem inconspicuous, the impact left on the recipients has certainly been monumental. In a period of almost a month, a total number of 120 volunteers have stepped up, willingly taking their time off to serve. Therefore, with people on the sidelines supporting the frontliners unconditionally, it will hopefully provide ample motivation for them to continue their brave and unrelenting fight against the virus.
Further Readings: