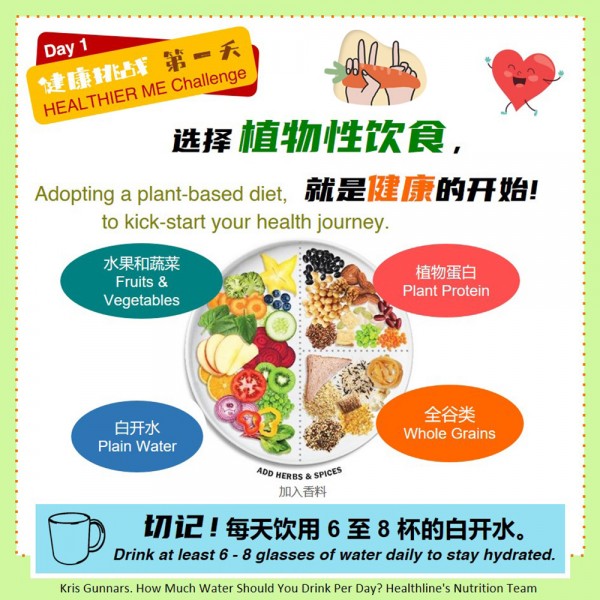 "Healthier Me 21-Day Challenge" provides participants with a 21-day "whole food, plant-based diet" experience, allowing them to personally experience the health benefits of such a diet. (Photo by Yang Wen Ting)
On August 28th, participants of the "Healthier Me 21-Day Challenge" attended the final online gathering, which kicked off with a song titled "Veg-21". Everyone turned on their video camera and danced to the melody at home, exuding the joy of being a vegetarian. Subsequently, through a short video of recaps, attendees were able to see how volunteers were silently working hard behind the scenes and felt the sincerity and dedication of the team. One of the highlights included the deliberate and thoughtful decision to prepare enough reusable tableware to be rotated for each meal delivery, instead of using single-use each time as an effort to minimise the production of waste.
Participants of the "Healthier Me 21-Day Challenge" were required to maintain a whole food, plant-based diet throughout the period and do blood tests to track any changes in their health condition. This programme kicked off in the east zone of Singapore from 2nd to 22nd August 2021, where all 34 participants experienced positive changes in their overall health just with a switch to a whole food, plant-based diet for 21-days.

After completing the 21-day challenge, all 34 participants gathered online to celebrate their achievement and share their happiness. (Screenshot by Yaw Huey Xin)
Experiencing the "Magic" First Hand
"Congratulations to everyone for completing the "Healthier Me 21-Day Challenge!" Dr Derek Tan congratulated the participants as he revealed that all the blood test reports had shown improvement in various health indicators. As a means of encouragement, the organising team presented awards for the best improvement in each category – Cholesterol, Blood Sugar, Triglyceride, Blood Pressure and Weight Loss. Lai Shiew Mei, who received the "Best Improvement Award – Weight Loss" category, lost a total of 5 kilograms. She was delighted when she shared, "Both my weight and blood pressure have decreased!"
Shiew Mei had long been dealing with the problem of high blood pressure. Not only was she happy about losing weight and being able to wear her favourite jeans, but more importantly, her sense of taste has heightened, which allowed her to appreciate the natural flavour from ingredients. During the challenge period, she did not consume any eggs or dairy. She also took this opportunity to break her unhealthy craving, making her feel more relaxed.
To strengthen the participants' confidence, the organising team would share info on the ingredients used in each bento every day, empowering participants with the knowledge of the ingredients and their benefits. (Photo by Ho Xin Qin)
This image shows the top 5 favourite meals voted by the participants. Using no oil and minimum salt, participants were able to taste the original flavour of each ingredient. (Photo by Yang Wen Ting)
"I was not used to it at the beginning. The food was bland, and I had to mix in with some beans or gravy from the vegetable just to chew and swallow the food," shared Lim Li Kiang. She went through a period of adjustment when she started the challenge. In the past, Li Kiang enjoyed snacks, especially potato chips. After participating in the challenge, she went from thinking that the food was tasteless to having her taste buds become more sensitive, and eventually to being one who looks forward to the next meal. To persevere and eventually experience the goodness of this diet, Li Kiang had to adjust both physically and psychologically slowly. When faced with her favourite snacks, she persisted and resisted the temptations. Her heart was full of gratitude when she received the blood test report after the challenge as she saw improvement in both her cholesterol and weight.
Although participant Chan Chiew Yong is a vegetarian, she had always preferred rich-flavoured and deep-fried food. Previously, she suffered inflammation on her knees, which caused her to limp when she walked. She described her body movement then just as an elderly. After joining the challenge, the inflammation, pain and swelling all subsided, and she could walk normally again. The changes she observed, such as weight loss and having better vitality, made Chiew Yong even more determined to maintain the healthy diet.
Companionship continues after the end of the programme
Another participant, Lee Yuet Ying, shared that signing up for the challenge literally "saved her life". Yuet Ying started to experience chest pain in May this year. The pain would kick in whenever she became nervous or walked at a faster pace. She even experienced it twice or thrice daily occasionally, which brought her much suffering.
After the challenge, she saw a tremendous improvement in her health, and the chest pain has not once reoccurred. Having personally experienced the benefits of consuming only plant-based food, she now encourages people to become vegetarian.
According to the blood test reports, blood pressure, fasting blood glucose, and triglycerides of 22 participants had improved by 61%; the overall cholesterol improved by 91%; low-density lipoprotein cholesterol (bad cholesterol) improved by 87%. The results were significant and encouraging.
This project was initiated by Dr Eddie Chan, the convener of Tzu Chi International Medical Association (TIMA) KL & Selangor and was rolled out in other countries and regions subsequently. In Singapore, this trial run in the east zone had delivered promising results. However, after these 21-days, how are participants going to maintain this diet? During the final online gathering, Dr Chan's educational short clip was played as an encouragement to all.
Dr Eddie Chan, the convener of TIMA KL & Selangor, provided some tips to maintain a healthy diet after the challenge. (Screenshot by Yaw Huey Xin)
"Many studies have confirmed that plant-based diets can improve blood sugar, blood pressure and cholesterol level, as well as promote weight loss all at the same time. This is not achievable with any medicine." He encouraged everyone to maintain a healthy lifestyle with long-term commitment and management. Everyone's physique is different; some people would require a longer time to see the results, so do not give up. He emphasised the importance of adopting a correct whole food, plant-based diet. If one suffers from high blood pressure or diabetes, one must continue to seek professional medical advice. It is not recommended to reduce or stop the medication by yourself.
Dr Chan also suggested several methods which could keep one maintaining a plant-based diet: know how to choose the correct type of food; if it is not possible to self-prepare all three meals, opt to order meals from a trusted restaurant; participate in online courses to continue learning, are a few tips he shared. To help participants stay motivated in adopting this lifestyle, the team also set up a communication platform that aims to resolve doubts and exchange cooking tips. He quoted a Jing Si Aphorism to encourage attendees to further promote the movement of adopting a plant-based diet, "Don't underestimate yourself because everyone has infinite possibilities."
Khoo Kean Yee, Deputy CEO of Tzu Chi Foundation (Singapore), said: "Vegetarianism is no longer a concept limited to religious reasons but a task for all mankind. We need to awaken the hearts of more people, to love and protect the animals and this Earth."
"It is imperative that we promote vegetarianism and also be a vegetarian ourselves." During the pandemic, Master Cheng Yen has persistently said that if more people could switch to a plant-based diet, it will benefit one's health and form a complete act of love as the impact is extended to all living beings. It is time that mankind reduce the slaughtering of animals and gather kind thoughts to eliminate the pandemic.
More about: Healthier Me 21-Day Challenge - A Whole-Food Plant-Based Diet Programme