Tzu Chi Humanistic Youth Centre and IAMinVISIBLE have co-organised the "Do You see See Me?" exhibition, which aims to bring migrant workers and locals closer by sharing their life stories. (Photo by Chan May Ching)
Here I stand…

Seeking for love, belonging and acceptance.

To build a family, a home… away from home.
Standing in the middle of the stage, Janelyn Vergara from the Philippines recited her poem which was composed based on her life experiences. It described her feelings about Singapore, as well as her homesickness.
Vergara has been working as a domestic helper in Singapore for seven years. She is part of a large group of migrant domestic workers and migrant industrial workers in Singapore. There are around 1.4 million of these workers, exceeding one-fourth of Singapore's total population. However, you would not see them at coffee shops beneath the HDB blocks or rub shoulders with them within shopping malls. They live in dormitories, shop at designated shopping malls, and love to gather in open areas. These places are rarely visited by Singaporeans.
Vergara (right on the stage) is a domestic helper who hails from the Philippines. She is reciting an English poem written by herself while her friend dances next to her. (Photo by Chan May Ching)
Although we all live in Singapore, we live worlds apart. Migrant workers have always been around, but they are rarely noticed in the fabric of our society. Hence, Tzu Chi Humanistic Youth Centre and IAMinVISIBLE were determined to bridge this gap by organising storytelling sessions on a mission to connect both worlds.
On 7th August 2022, just two days before National Day, the two organisations collaborated and held a "Do you See Me?" story exhibition at Tzu Chi Humanistic Youth Centre, showcasing the life stories of 43 migrant workers from numerous countries such as Indonesia, the Philippines, India, Thailand, China, Bangladesh and Myanmar. In addition to that, this exhibition also displayed the journey and stories of nine change makers and would hold until 31st August.
During the opening ceremony of the event, several migrant workers presented their talents through a variety of performances. There were dance performances, instrumental performances, poetry recitals and even a sign language song performance with Tzu Chi volunteers. The organisers also arranged for the migrant workers to hold conversations with Non-Government Organisations (NGOs), share their life stories with locals and invite attendees to savour homemade hometown delicacies.
On the stage, migrant workers perform wholeheartedly in their traditional costumes. (Photo by Chan May Ching)
During the sing-along session, migrant workers and Tzu Chi volunteers collaboratively perform a sign language song titled "We are One Family". (Photo Lee Foo Mun)
In his speech, the Parliament member of Nee Soon GRC, Mr Derrick Goh, mentioned that his grandfather came to Singapore from China Fujian province and worked as a security guard in St Patrick's School. Therefore, his grandfather too used to be a migrant in Singapore. The prosperity and peace we enjoy in Singapore now are the shared fruits of the labour of many migrant workers and Singaporeans.
Mr Derrick Goh continued to explain that by sharing individual migrant workers' stories, Singaporeans were offered a glimpse into the life, dreams and aspirations of these workers. Singaporeans would therefore no longer see them as a member of the foreign workforce here in Singapore, but also as unique individuals "who we often overlooked".
Mr Derrick Goh further said, "In concluding, this "Do you See Us" initiative is not about "Them" but about "Us". All of Us. We all need each other, and we are all Stronger Together."
Apart from Mr Derrick Goh, the guests of honour who attended the event were the Vice Consul of the Philippine Embassy in Singapore Miss Joy Anne Lai, Cultural Officer from the Philippine Embassy Miss Rosellie L. Bantay, Chairman of the Migrant Workers' Centre Mr Yeo Guat Kwang, the CEO of Tzu Chi Foundation Singapore Mr Low Swee She and a few others.
Before the start of the opening ceremony, Parliament member of Nee Soon GRC Mr Derrick Goh is seen interacting with a few foreign attendees. (Photo by Chan May Ching)
Apart from the lively performances, IAMinVISIBLE captured the life stories of forty-three migrant workers, displaying them in the form of several large storyboards. These stories were all real-life experiences. While some of these experiences were pleasant, some were not. There was a story about a daughter who did not manage to attend the funeral of her parents and another story about a domestic helper whose two-year-old daughter could no longer recognise her when she finally returned to her hometown. There were also migrant workers who were upset about the condition of their dormitory while others commented that the food they prepared often became stale very soon.
However, to most migrant workers, Singapore is a "Land of Opportunity" for them to achieve their dreams. From the single mother who managed to buy a house for her family, a migrant construction worker who would make use of his lunchtime to compose poems and take photographs, an Indian migrant worker who picked up Mandarin, to the teenager who wanted to become a Youtuber so as to share about living in Singapore. Behind every migrant worker is an exclusive story of love and homesickness.
The exhibition showcases the life stories of forty-three migrant workers as well as the journey of nine change makers. (Photo by Chan May Ching)
Vivian Tan, an undergraduate currently studying at National University of Singapore, read through every migrant story intently. After which, she used a black marker pen to leave her comment on several posters. She explained her action by saying, "Thank them for their words and let them see that people are actually reading them and their words are not just for show."
Many people who attended the exhibition left praises and words of encouragement on the message board. (Photo by Chan May Ching)
The organising committee for this exhibition aimed to break down the invisible barrier between locals and migrant workers by letting the voices of the migrant workers be heard. The founder of IAMinVISIBLE, Miss Chua Ning Pei, who was also the event planner for the exhibition, recalled when she had just founded IAMinVISIBLE. Her friends and family were baffled and questioned her, "Why are you so concerned about the migrant workers? Why don't you care about the low-income people in Singapore instead?"
After witnessing how the people around her reacted to her working with the migrant workers group in disbelief, she was even more certain about the importance of IAMinVISIBLE's work. Moreover, by organising this exhibition during August, the month of the National Day, she hoped to address the issue of how Singaporeans often overlooked migrant workers through the years.
"They are really very talented and are even more capable than us. We just happened to have a more advantageous social background than them. Just like us, they also strive to build a better future."
Change is of course difficult. However, Chua Ning Pei hoped that through this exhibition, they would be able to sow a seed of change, as according to her, many migrant workers are very grateful to Singapore for enabling them to build a better life for their families. Chua Ning Pei further shared, "One of the brothers told me that the local NGO and government take care of them like they are Singaporeans".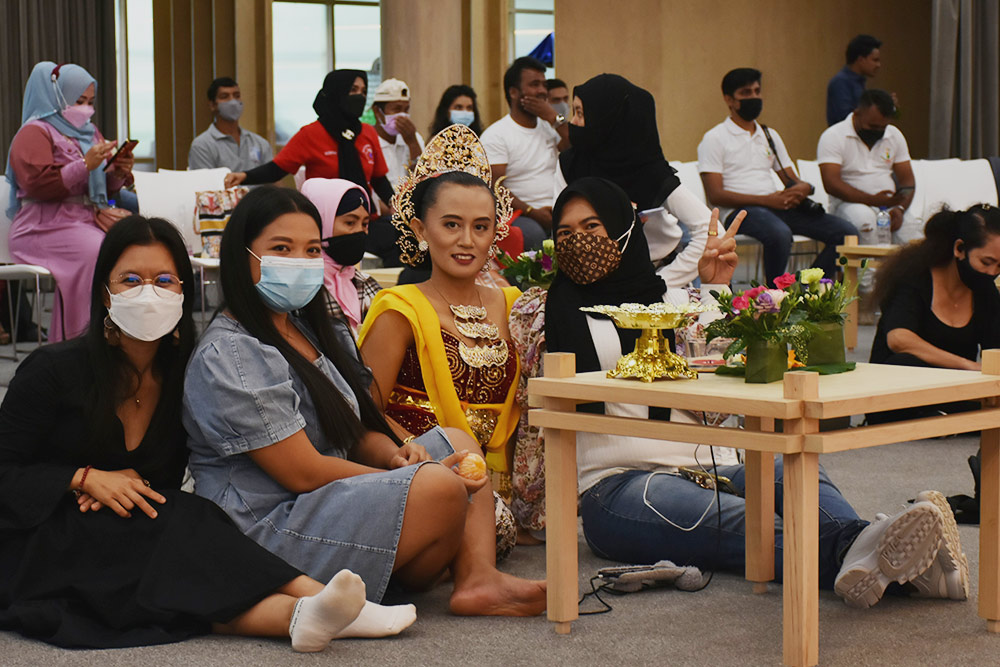 Many migrant workers brought their friends along to attend this event. (Photo by Lee Foo Mun)

Migrant Band Singapore performing passionately on stage. (Photo by Lee Foo Mun)
When Vergara left the stage at the end of the program, she affectionately shook the hands of a Chinese lady. Vergara then carried the little girl standing beside the Chinese lady and let her sit on her lap. All three of them seemed to be very loving and had close ties. The Chinese lady was Vergara's employer, Miss Audrey Koh. When the employers of Vergara came to know about Vergara's public speech and sharing session today, Miss Audrey Koh and her husband brought their daughter along to show her their support.
Audrey Koh (second from the left) and her husband brought their daughter along to catch Vergara's performance (third from the left) as well as to show their support. The family takes a photo right in front of Vergara's storyboard after her performance. (Photo by Lee Foo Mun)
Audrey Koh said, "She is part of our family. And in family, we support one another, they are also nation builders. Singapore is not built by Singaporeans, Singapore is built by Singaporeans and migrant brothers and sisters. Without the migrants, I don't think we are where we are today."
Some of the stories are bitter or challenging. But, there are also stories of joy and hope and of dreams coming true. Through listening attentively with kindness and empathy, we are indirectly involved in helping them write their life stories too.