Entrepreneurs and staff of the Zero Spot laundry factory line up to empty more than 40 coin banks into the donation pot to turn kindness into actions.
Inside the large premise of Zero Spot, ready-to-be recycled plastic buckets were seen sorted and neatly stacked in one corner. Certificates and medals of appreciation from charities and participation in the government's green plan were visible in the lobby.
This company firmly believes in sustainability - taking from the community and giving back to society. The company director, Madam Teo Siew Leng, works hard in her career and devotes herself to Tzu Chi's mission to give back to society. She also encourages her employees to participate in Tzu Chi activities and support the coin bank practice to fulfil the company's social responsibilities.
On 7 June 2022, the Tzu Chi Singapore Entrepreneur Team revisited Zero Spot to share about environmental and ecological protection and Tzu Chi's footprints of Great Love with the invited entrepreneurs and company employees. Chen Yi, a senior financial staff member who has worked there for more than ten years, greeted Tzu Chi volunteers warmly in a temporarily arranged lecture hall in the company's lobby. She said, "Tzu Chi volunteers come here often. We all know each other and are good friends."

The Tzu Chi volunteer team is at Zero Spot Laundry Company to share Tzu Chi stories with entrepreneurs and employees.
According to Chen Yi, Teo Siew Leng has been advocating environmental protection and plant-based diet in the company for years, so the green concepts have been integrated into the corporate culture and are recognised by employees. In addition to being actively involved in recycling, the employees also had a plant-based meal once a week before the pandemic.
She added that the employees agree with Tzu Chi's philosophy of great love and almost every employee has a coin bank on their desk. Some staff also tagged along with Teo Siew Leng to participate in large-scale Tzu Chi events, such as Buddha Bathing Ceremony and Water Repentance Sutra Adaptation performance in 2013. Some have even joined Tzu Chi as part of the volunteer team.
A Love that Never Ends
In 2008, Teo Siew Leng started recycling discarded hotel bed sheets to produce eco-friendly bags for charity sales before reusable bags were popular. She shared that after she began listening to Dharma, her mindset about doing business changed - she started thinking about how to benefit society and create her life value.
Teo Siew Leng also added with a sad tone that the reason she chose to hold this event on 7 June was to extend the love of volunteer Sim Hee Chew, a former entrepreneur who passed away on 6 June last year.
"I saw the spirit of 'giving without expecting anything in return' in Brother Hee Chew and Tzu Chi."
She said, "The most valuable thing in life is our 'heart'. After searching for a long time, I gradually found the answer in Tzu Chi. I hope everyone can find their answer and make their life more valuable."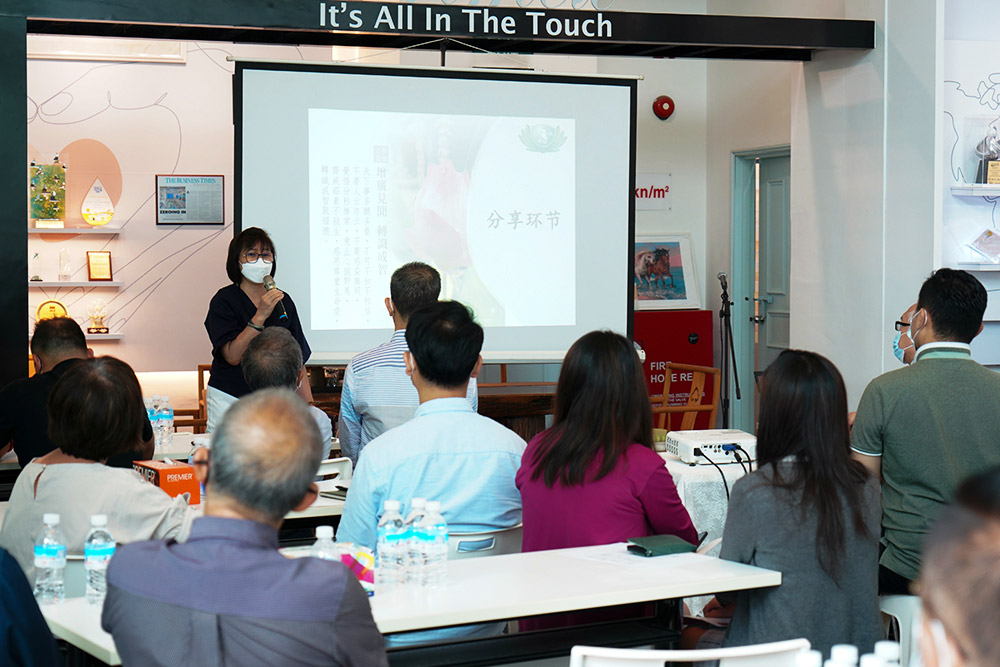 The company holds a session to spread kindness and introduce Tzu Chi to people once again. Teo Siew Leng shares her experiences in Tzu Chi and hopes everyone can benefit from the sharing related to environmental protection and charitable activities.
Teo Siew Leng also mentioned that she witnessed Tzu Chi's humanistic education in-depth when her nephew participated in Tzu Chi's educational activities.
Vince Shu, Teo Siew Leng's nephew, has joined Tzu Chi for 11 years, from Tzu Chi's Parent-Child Bonding class until Tzu Chi's teenagers' class. In the past five years, he took the initiative to donate all the red envelopes he received because he hoped to share his blessings with others.
The slightly shy Tzu Chi Teenager (a.k.a. Tzu Shao) shared the reason he donated his red envelopes, "If we could distinguish between 'want' and 'need', we could accomplish many things with our ability or money to help others. Sometimes I also think, 'What can I do with the money from the red envelopes?' But when I considered it further, I know I will be happy if I can help others."

Understanding that small acts of love can become a powerful force, Vince Shu (second from the left) pours the donations from his bamboo coin bank into the donation pot.
From Brother Sim Hew Chew, she saw an exemplar that an entrepreneur set for society. While from her nephew, she saw a successful example of Tzu Chi's character education. Through the practice of doing good deeds by an older adult and a young man, coupled with her awareness of kindness and years of personal involvement and testimonies, Teo Siew Leng has become firmer in her belief. She recognised that donation is one way to do good, but promoting Tzu Chi's philosophy in corporate is much more important.
"Let's gather the power of love," Teo Siew Leng appealed to the audience, and everyone responded to her call with warm applause.
Sowing Seeds of Kindness with Acts of Love
"Thank you for taking time out of your busy schedule to learn more about Tzu Chi."
Tzu Chi started with thirty homemakers as its members who supported the Bamboo Bank era. They were encouraged to save around 50 NT coins daily in a bamboo coin bank to help those in need. The organisation gradually grew to become what it is today, establishing itself globally with a presence across six continents. Volunteers Andrew Lim and Keng Lim went into detail about Tzu Chi's history, vision, missions, and trajectory over the years.
During the question and answer segment, the audience participated enthusiastically, and the live atmosphere was spirited. Teo Siew Leng urged her employees to participate in as many Tzu Chi activities as possible, and most of them did. They overheard one of the volunteers wearing a grey shirt saying that he wished to don the uniform resembling the vast blue sky filled with white clouds and be part of that group of volunteers. As a result, they couldn't help feeling curious about the representations of the different volunteer uniforms and posed questions regarding this during the segment. There were also big questions posed such as the role that Tzu Chi plays on the global stage in promoting environmental protection and mitigating environmental problems.

During the Q & A session, volunteers Keng Lim (left) and Andrew Lim (centre) patiently address any questions from the floor of distinguished guests and company employees.
The guests showed massive interest in topics surrounding the usage of donations received and the management of the funds. There were questions arising over how Tzu Chi determines which cases to take on as well as the allocations of funds and whether it is entirely used in Singapore. All of the questions were addressed and the session ended in a joyous atmosphere.
Chen Yi remained earnest in her note-taking throughout and gained a lot from the morning sharing session even though she was already familiar with the organisation. She mentioned, "Every sharing session conducted by Tzu Chi is informative and the content of their sharing changes. Last year, the sharing session covered their typhoon relief efforts in the Philippines. This year, they shared about the relief mission to help Ukrainian refugees. There are some contents that overlapped between the two years. However, it serves as a good refresher for me."
As the event drew to a close, volunteer Ng Chuan Lim received the consolidated donation from the guests on behalf of Tzu Chi. This was followed by a performance of Tzu Chi's song "One Family" sung by all the volunteers. Its gentle melody was accompanied with lyrics that tug on one's heartstrings. The song reverberated in people's hearts and made the atmosphere more relaxed. The guests were invited to get up on their feet and join in on the song by holding hands and forming a big circle.
Being part of an Exalted Group
Entrepreneur couple, Brenda Seah and Vincent Lee, have been friends with Teo Siew Leng for many years. All of them are members of Tzu Chi Singapore Entrepreneur Association. During the interview, the two became emotional a couple of times and broke down in tears. At the mention of Tzu Chi's humanitarian assistance for Ukrainian refugees in Poland, Brenda became overwhelmed with emotions, especially that of gratefulness. She said, "War can destroy countless families and devastate lives. When these people are at the lowest point in their lives and feeling helpless, Tzu Chi gathered as many volunteers as they can to ensure that the refugees can settle down and give them direction in life. This, I feel, is most important."
Brenda also mentioned that at the end of the day, urbanites are only fixated on their own selfishness and desires. However, her opinion shifted after viewing Tzu Chi's videos and once again understood the true meaning of giving and receiving. Happiness lies in helping others. This is only possible due to the opportunity given by the care recipient and we should thank them.
Today's event was described by Vincent as something that strengthened his beliefs. "Life can often be hectic. However, this does not discount the fact that we need to spare some time to impart kindness to others. There are people who intend to do good but are unsure where to begin. Therefore, kind acts s can serve as an educational tool for people so that they can see the goodness of giving and be inspired to be kind to others. We should spread kindness in our everyday life!"
Vincent also revealed how he derived mental strength from Jing Si Aphorism. He shared with tears in his eyes, "It has been 20 years since I first got to know about Tzu Chi. Jing Si Aphorisms has helped me find peace and calmness when facing difficulties in life. It can eradicate my bad mood."

Tzu Chi's short films have evoked strong emotions in Brenda and Vincent. They especially agree with the ideology of "turning our palms over" that Tzu Chi adopts when helping others. To elaborate on this ideology, it means that people on the receiving end who have their palms up can also turn their palms down to reach out to people in need.
Tzu Chi gets invited back to the company every year to host a sharing session and promote kindness. In an interview after the session, Teo Siew Leng mentioned, "Know that your kindness has a ripple effect in the universe and constant kindness can accomplish much."
Teo Siew Leng walks with faith, vow and actions every step of the way. Over the years, she has actively persuaded her fellow colleagues and friends to become donating members of Tzu Chi. However, she feels that people should know about Tzu Chi and its philosophy. She stands by Tzu Chi's philosophy and has learnt to reflect and be mindful of her actions. She has grown as a person over the years. This, ultimately, makes donating more meaningful.
"Due to the trust they've placed in me or to maintain good business relations with me, many members are simply going through the motion of donating. However, this alone is insufficient. There is no lack of charities in the world which help and support those in need. Tzu Chi is different in the sense that it teaches people to understand and realise the importance of kindness, something that can only be inspired by feeling the kindness shown by others. Master Cheng Yen teaches that we need to inspire kindness when raising funds for good causes. I hope that today's sharing session has sparked love and hope within our hearts that could guide us in finding our life's direction."

Several items are on display at the exit to facilitate the introduction of Tzu Chi as a voluntary organisation to the employees. The items include a few bamboo coin banks and bilingual Jing Si Aphorisms booklets all arranged neatly in a row.
A large donation pot was placed in the company's lobby for people to fill it up with coins and notes by emptying their bamboo coin banks. The coins were like ripples in oceans formed from raindrops, slowly spreading out after falling in one spot.
An enterprise can contribute more than just its products or services. They can also gradually incorporate positive workplace culture into their business operation which can, in turn, allow the enterprise to become a space for the common good. For this change to happen, the attributes of the leaders become extremely pertinent as culture and leadership are inextricably linked. Leaders can try to lead by example to create a picture of what's possible and people will follow.