Da Ai Gallery
---
Kindle your inner light of wisdom and awaken the treasure within you
Join us on a quiet retreat from the frenzied pace of modern city life and be soaked in the soothing rhythms of Mother Nature!
Take a stroll through the annals of Tzu Chi history, and perhaps discover your second wind in the race of life…...
Nestled among lush greenery in a quiet corner along Queen's Avenue in Sembawang, sits a historic black and white building that houses the elegantly designed Da Ai Gallery. The carefully curated exhibits of the Gallery chronicle some 50 years of global compassion spearheaded by the Tzu Chi Foundation's selfless volunteers walking in the footsteps of its founder, Dharma Master Cheng Yen. Commissioned by Tzu Chi Foundation (Singapore), the Gallery was opened to public viewing on 11 May 2016. The opening of this historic building holds special significance for Tzu Chi, as it also marks 50 years of selfless giving by the Foundation's global family of volunteers.
The minimalistic yet eco-friendly interior of the Da Ai Gallery provides a spiritual oasis where visitors can recharge their weary souls as they embark on a historical journey through heart-warming stories of how Tzu Chi volunteers reached out to people in need in the spirit of Great Love, and healed many broken lives in the aftermath of natural and man-made disasters.
Through the deliberate care of master craftsmen, the colonial charms and features of the historic building have been largely preserved. The second level of the building is demarcated into various sections devoted to the history and related news and stories of Tzu Chi's missions worldwide as well as those of Tzu Chi Singapore. Besides enjoying short multimedia presentations of Tzu Chi's history and key milestones, visitors can also relax and browse through inspiring writings in the cosy reading corridor surrounded by lush greenery outside. The ground level is divided into two zones - "Nature's Haven", which lies next to an open field and where visitors can experience the serenity of beautiful nature, and a "Chat Corner", a warmly lit area for visitors to rest their tired legs and to chat with friends over hot tea or coffee.
The dainty Da Ai Gallery holds a treasure trove of surprises. Seasoned dried branches and pieces of driftwood lend a natural, rustic air to the interior, while wooden flooring, coupled with black and white posters create an aura of nostalgia. The use of multimedia and tangible exhibits afford visitors a priceless experience of stepping back in time as they retrace the footsteps of Tzu Chi's history.
Exhibits, such as a few pieces of salted bean curd, a few grains of rice, three cabbages, interwoven bricks, eco-blankets (used in disaster relief operations), provide a 3D experience of Tzu Chi history. They have been painstakingly selected and crafted by skilled volunteers after the latter pored through countless historical records of Tzu Chi's activities and events, in order to preserve the exhibits' authenticity.
We welcome members of the public to visit the Da Ai Gallery and experience the spirit of human kindness and Great Love, which has paved the path of Tzu Chi for over half a century.
For more updates and stories at Tzu Chi Da Ai Gallery, please visit:

Tzu Chi Da Ai Gallery Website
Address: 137 Queen's Avenue, Singapore 758592 (Sembawang)
Opening days and hours:
Tuesday‒Friday 1pm – 7pm (Last admission at 6pm)
Weekends and public holidays 10am – 7pm (Last admission at 6pm)
*Closed on Mondays (except public holidays)
*Closed on the day following a public holiday
Email: daaigallery@tzuchi.org.sg
Facebook Page: https://www.facebook.com/daaigallery
---
Related News
An insight into Jing Si Books and Café; uncovering what differentiates it from the other cafés out there.
A creative cooking competition involving parents and children was held at Tzu Chi Humanistic Youth Centre on April 17, 2021, to promote vegetarianism.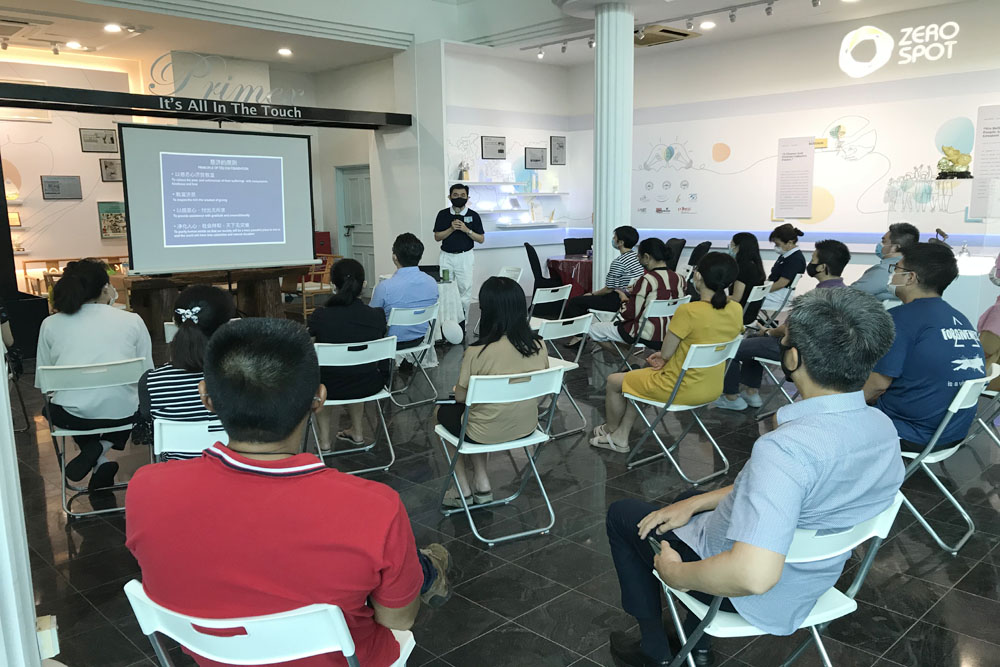 Members of Tzu Chi Singapore Entrepreneur Association visit local companies to spread kindness and introduce Tzu Chi to more people.