Eco-Awareness Centre
---
Enhance Environmental Protection by Keeping the Source Clean
There are actually two facets to trash – it can either be readily discarded as rubbish or sorted out for recycling. Through the use of posters with useful information on environmental education and providing opportunities for hands-on recycling activities, the Tzu Chi Eco-Awareness Centre is able to help bring about a paradigm shift in the public's perception of waste disposal.
Located within the Woodlands industrial area, the Eco-Awareness Centre was officially inaugurated in 2014. It is the island's only recycling collection point that operates six days a week, and is open to the public for visits during the weekends. The Centre is located on the first level of the building, and it is demarcated into two main zones, i.e. an exhibition zone and a recyclables sorting zone.
In the sorting area, one can see volunteers of various age groups, including several silver-haired senior citizens who come practically every day. Bags of recycled materials are transported from all over the island to the Centre each day, and the volunteers work tirelessly and meticulously to sort out the recyclables for recycling. Although the task is time-consuming and strains the eyes, the volunteers work willingly without any complaint. They know that they are not working for money, but to improve the quality of recycling, with the hope of leaving a clean Earth for posterity. The recyclables are then remade into usable items, a value-added process that not only helps to reduce trash, but also to conserve precious natural resources.
In Taiwan, there are numerous community recycling stations maintained by the respective volunteers within each neighbourhood. The volunteers manage the recycling stations as if they were taking care of their own homes and treat one another like family with mutual care and support. Many of the elderly volunteers are happy to be able to contribute even in their old age and have become healthier and increasingly cheerful as they serve. Some of the volunteers who have experienced setbacks in life or are suffering from chronic illnesses rediscover meaning and purpose in their lives after they start committing themselves to recycling work. Many of them are also able to get rid of their bad habits and settle their bodies and minds through the process of volunteering. Every recycling station thus serves as a sanctuary and a spiritual cultivation ground where people can practise both "physical" and "spiritual" recycling.
By personally involving themselves in recyclable items sorting work, many of the volunteers are able to transform profound environmental knowledge into practical life wisdom that they can apply in their own lives. Hence, they are able to share knowledge on environmental protection with others and help promote environmental protection to the public. Visiting groups to the recycling stations include staff from enterprises, teachers and students from schools, and residents in the neighbourhoods, and they are personally led on tours by dedicated recycling volunteers. Thanks to their efforts, environmental education is now accessible to everyone, and recycling has become a nationwide sustainability movement in Taiwan.
Visit Highlights
Through multimedia displays and guided explanations, visitors learn about the global environmental crisis, Tzu Chi's environmental philosophy of "peaceful co-existence with Mother Earth", and practices in environmental protection.

Visitors may personally learn and experience what it feels like to sort recyclables at the various zones for different categories, such as paper, metals, etc.
Regardless of your age, we welcome you to join us as our recycling partners and to invite your family and friends to visit our Eco-Awareness Centre together!
*From 15 Sep 2021 (Wed), Eco-Awareness Centre will temporarily stop operating on weekdays until further notice
*Centre remains open on Saturday (19 & 25 Sep 2021)
Opening hours
Saturday: 9am – 4pm
Tel: (65) 67540331
Address: Level 1, 1 Woodlands Sector 1, Nylect Industrial Building, Singapore 738309
Nearest MRT station: Admiralty
Bus service: 858, 964

To schedule your group visit, please fill out our enquiry form.
Note: Up to 5 visitors at any one time.
---
Related News
Over ten episodes, 22 vegetarian children appear before the camera one after another to introduce different snacks in their kiddy voices. Some are full of confidence while others got themselves into tacky situations.
Tzu Chi International Medical Association of Singapore and volunteers piloted the "21-day Healthy Diet Challenge" programme in the Eastern region and attracted 34 participants. How can diet improve our physical well-being? Let's see the result in 21 days!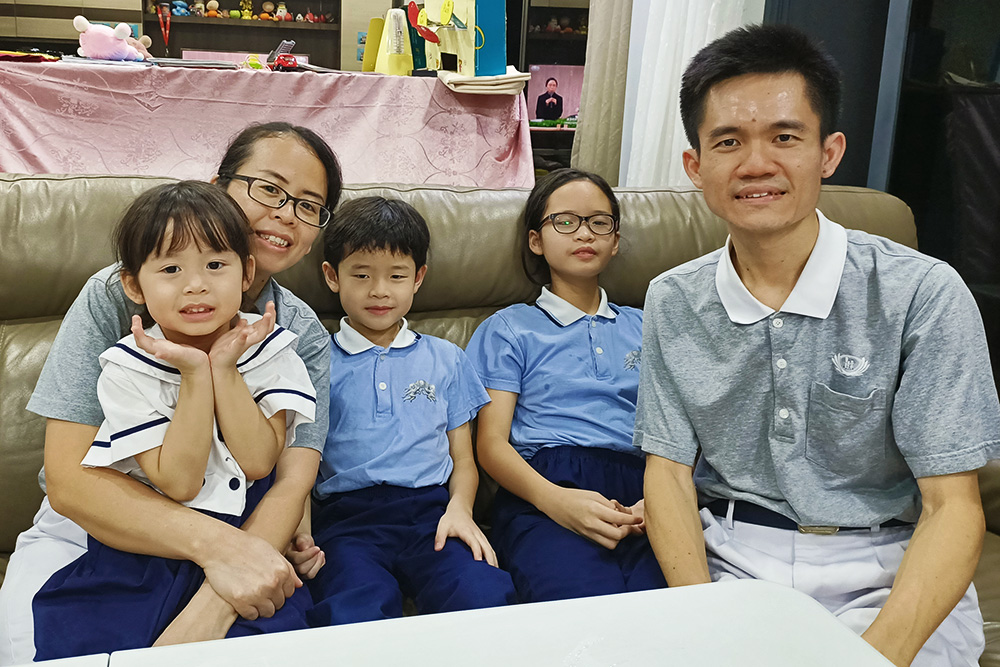 The motivation behind primary school teacher Low Yee Leong's path to vegetarianism for the past ten years was to wish for his wife's smooth delivery. He had been practising "flexitarianism" at home until...