Disclaimer: All activities depicted in this article were conducted in compliance with the COVID-19 rules and regulations at that given time.
Me (second from left) on the job interviewing a newsmaker. (Photo by Chan May Ching)
Graduating from university right in the thick of a seemingly never-ending pandemic, I vividly recalled frantically scouring through numerous job portals and sending out tons of resumes in hope of landing a job that I could envision myself doing. Among the treacherous heap of job applications that I sent out, one of them was for a media relations job opportunity at Tzu Chi Singapore. While I had admittedly not heard of Tzu Chi prior to chancing upon the job advertisement, the job scope, which included various responsibilities closely related to writing drew me towards taking the step to apply. As writing was something I had been interested in since young, the opportunity to continue honing my skills in this area was a big lure.
I was soon called for an interview and subsequently offered the role. After some consideration, I decided to take a leap of faith by accepting the job. While I had done a myriad of jobs prior to joining Tzu Chi, it was to be my first-ever full-time one and nothing could have prepared me for what was coming. Unlike a typical corporate firm, Tzu Chi is a non-profit organisation with its origins in Taiwan. Its work in Singapore started in 1993 with the Mission of Charity and the goal of relieving poverty, before gradually expanding into the Missions of Medicine, Education, Humanistic Culture, and Environmental Protection over the years. Thus, with the organisation having such a unique background and myself not having had prior experience of working in similar environments, I had to be mentally prepared for the differences that awaited me.
While the pandemic has resulted in widespread work-from-home arrangements among the workforce for the past two years, I still had the opportunity of working in Tzu Chi's office with appropriate safe management measures for the first few weeks. Unlike some of my peers working in swanky offices located in towering Central Business District (CBD) skyscrapers, workplace for me was the humble yet impressive-looking Jing Si Hall, headquarters of Tzu Chi Singapore. This made the first day of work rather interesting as I had never worked in such a unique setting.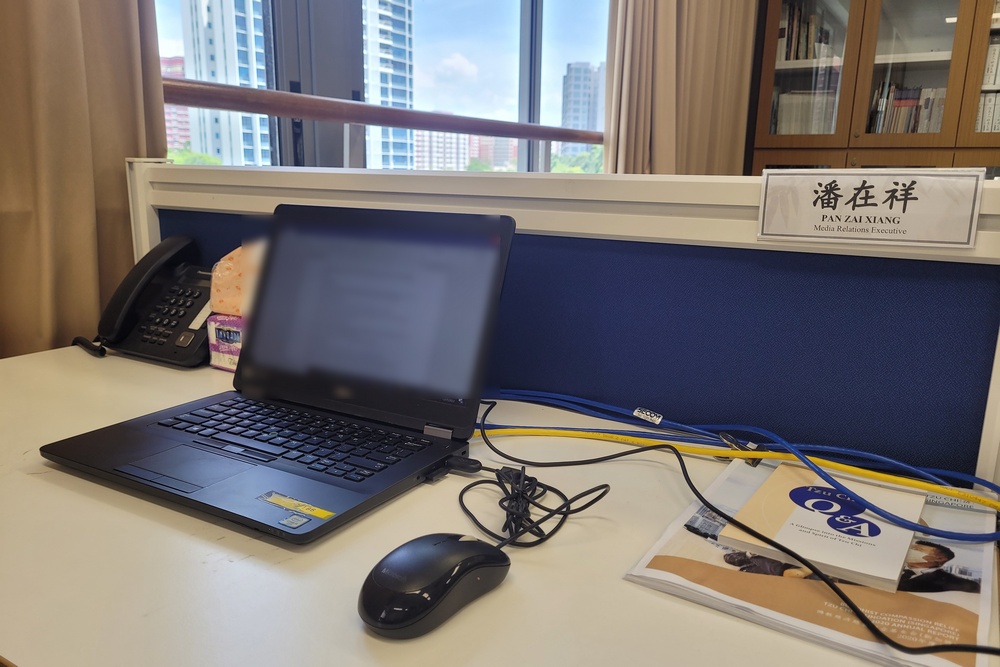 My simple work desk at the office of Tzu Chi Singapore. (Photo by Pan Zaixiang)
Unique Differences
Other than the distinctive location, there were also other differences at the workplace. With Tzu Chi being a Buddhist organisation at heart, there were prayer sessions as well as the viewing of 'Life Wisdom' videos at the start of the day by all the staff and volunteers. At the beginning, it took a little getting used to as I was never the most religious of people. However, after a while, I realised that there were useful learning pointers you could take away from watching these clips of 'Life Wisdom' regardless of one's religious preferences. Morning prayers could also serve as a tool for meditation and self-reflection.
Another key difference was with regards to Singaporeans' favourite pastime – eating. You might be wondering why is food brought into the picture. The answer lies with the daily vegetarian lunch provided by Tzu Chi Singapore for all staff and volunteers at Jing Si Hall. When I was first informed by the human resource department that all staff would have to consume the vegetarian lunch, I was a little apprehensive initially as vegetarian food was not something that I had eaten much of since young. While my fellow colleagues did tell me beforehand that the food served was pretty good, there was still a certain amount of tentativeness as I did not know exactly what to expect.
But it turned out that my worries were unfounded as the lunch was indeed more than decent and also tasted very much like home-cooked food. Lunch was served in our own packed lunchboxes due to the pandemic and I was told that the food was even better pre-pandemic as different volunteers would come every day to prepare a spread of vegetarian food. Some of them worked as cooks in their day jobs and thus preparing scrumptious food was second nature to them. At that point, I was just wondering that if the food already tasted rather decent during the current pandemic period, I could not imagine how good it could be during normal times. Therefore, in these short few months, I was able to form a new perspective towards vegetarian food.
Healthy and colourful vegetarian lunch is served daily for all staff and volunteers at Jing Si Hall. (Photo by Pan Zaixiang)
Starting on Actual Work
Moving away from the topic of food before getting too carried away, it was time for my first work assignment. Two weeks into my employment, I was tasked by my direct supervisor to embark on an assignment revolving around Tzu Chi Seniors Engagement and Enabling Node (SEEN) centres. Due to the pandemic, the seniors' outreach programme at SEEN had been disrupted several times, and it was finally resuming after a short pause. Thus, my job was to write an article shining the spotlight on the SEEN centres and their outreach programme in spite of the challenges brought by the pandemic.
While writing professionally was not something new to me, having had some experience as a journalist/writer in various media outlets previously, there was still a fair share of nerves before starting as I was still rather unfamiliar with the organisation. However, this feeling of uncertainly was quickly extinguished with the guidance of my supervisor who was there to assist me for my first assignment. I was duly familiarised with the Tzu Chi's workflow and also shadowed some of the volunteers as they went about conducting their door-to-door outreach activities. It was an eye-opening experience and through watching the volunteers handle certain less-than-friendly residents, I quickly forged a new-found respect for them.
After conducting the interviews with the volunteers about the outreach programme and subsequently squeezing my creative juices to produce the article, my first piece of tangible work for the organisation was finally completed. And this also signalled the start of my writing journey in Tzu Chi in the months to come. With the help of my fellow colleagues in the media team, I went on to write many more articles in the first six months, covering a wide variety of stories and angles. These included feature stories on several Tzu Chi establishments such as Jing Si Café, Great Love Student Care Centre and Tzu Chi Eco-Awareness Centre, just to name a few. The area of human interest stories was also something I was involved in and it was through this where I uncovered plenty of insights about the lives of several volunteers and staff.
One of the events I covered was when Tzu Chi celebrated National Day with migrant workers. (Photo by Li Fumin)
Beyond writing, the other work that I was assigned to has also brought me new knowledge and skills. Tasks such as copywriting, translation editing and handling media relations were not things that I was heavily exposed to in the past, and my time in Tzu Chi thus far has allowed me to develop these new skillsets.
Adjusting to a new environment will never be straightforward but the support from helpful staff and volunteers along the way has made my work much easier. Through my job, I have also been able to have a close-up view of the work done by Tzu Chi and it has allowed me to find greater meaning in my own work as well. Perhaps, it is this ability to derive deeper value which has provided the impetus for me to produce good work. Thus, I was pleasantly surprised when I found out that one of my articles about Jing Si Café was statistically Tzu Chi's second most-read English article for 2021.
On a personal level, that was indeed something to cheer about but more importantly, it would serve as motivation towards producing better work in the future. Six months into my first job, it is safe to say that I have picked up many learning pointers, both tangible and intangible. While we can never predict the future, I hope to still continue the learning process at Tzu Chi on both professional and personal fronts in the months ahead.