On March 12th and 13th, volunteers from Tzu Chi's Northeast Region and the Chinese American Independent Practice Association (CAIPA) in New York jointly operate a temporary vaccination site. (Photo by Jupiter Chiou)
Following the year-end blessing ceremony at Tzu Chi USA's Northeast Regional Office in New York, volunteers were mobilized to initiate community volunteering projects, arrange training courses, and assist with vaccination efforts. And after Freeman Su — the Executive Director of Tzu Chi USA's Northeast branch — sent out a registration form to recruit Tzu Chi volunteers and community members for the upcoming events, over 80 enthusiastic individuals signed up in just five days.
Due to strict storage requirements for quality control of the COVID-19 vaccines, the vaccines must be used up within six hours after opening. To uphold these essential conditions, Tzu Chi NY collaborated with the Chinese American Independent Practice Association (CAIPA) to jointly assist New Yorkers in receiving their vaccinations in a timely manner with the utmost care.

Volunteers uphold a network for preventive actions for the community. (Photo by Jupiter Chiou)

After receiving the vaccination, many residents feel a greater sense of security. (Photo by Jupiter Chiou)
At present, the COVID-19 pandemic has been an ongoing part of daily life for more than a year in New York. With the increased economic struggles brought forth by unemployment and reduced working hours, people's stress and anxiety levels have soared as well. While a vaccine is now available, bringing much-needed hope for so many, the hardships are not yet over, and Tzu Chi's mission for disaster relief continues without delay.

Volunteers speak with residents who come for the vaccine and thoroughly explain the process. (Photo by Tun Lin)
Some of our elders within the community have faced challenges making an appointment to receive their COVID-19 vaccine due to language barriers or lack of access to the internet. Tzu Chi has therefore collaborated with CAIPA medical professionals in the hopes of providing the necessary assistance — and peace of mind — for the Chinese community in Flushing, NY.

Social distancing regulations are upheld to avoid the spread of the virus. (Photo by Jupiter Chiou)

Tzu Chi recruits and trains volunteers in advance so everyone is fully prepared for the tasks to come. (Photo/courtesy of Tzu Chi USA's Northeast Region)
Tzu Chi's team of medical volunteers mobilized ahead of time, recruiting and training medical volunteers with care. Before the vaccine was made available to volunteers, online training courses in both Chinese and English were conducted to provide new medical volunteers with the tools needed to successfully carry out the vaccinations. These courses additionally include preventive actions and control, registration, traffic direction, and observation after vaccination. Having taken such necessary precautions for prior events, volunteers were able to readily and mindfully perform their duties, mobilizing three vaccine stations in the spirit of international disaster relief in three months. Each volunteer is required to attend eight sessions with a total of 64 hours of service. Some are responsible for work arrangements, and some are responsible for completing volunteer training. They are divided into multiple teams, but all have the same goals. A large number of community volunteers have been trained, and volunteers are working hard to provide relief.
Tzu Chi USA's Northeast Regional Office was notified on March 8th that they would be able to set up a temporary vaccination station at Flushing Town Hall, and thus, a total of 550 doses of vaccines were administered within two days on Friday and Saturday, March 12th and 13th.
After the registration for vaccination was opened, the appointments for 550 shots were fully booked within a few hours.
Dr. George Liu, President, CEO, and CMO of CAIPA

COVID-19 vaccines are carefully delivered to the temporary vaccination site at Flushing Town Hall. (Photo/courtesy of Tzu Chi USA's Northeast Region)

Residents wait patiently in line early in the morning. (Photo by Jupiter Chiou)
There were long lines at the temporary vaccination site on Friday and Saturday. Many residents face challenges with registration, and some of our senior community members were getting a vaccine for the first time in their lives, but Tzu Chi volunteers were ready to help fill out the information needed, arranging for the vaccinations to be administered in an orderly and straightforward manner. After vaccination, Tzu Chi volunteers carefully guided each person to the observation area to rest for 15 to 30 minutes, confirming that they had no adverse reactions before leaving the site. Volunteers also had the opportunity to introduce Tzu Chi's mission and build relationships with the residents.
Xiuling Yao, a resident who was waiting for her turn to get vaccinated, said that she came with her husband and son-in-law. Upon witnessing the compassionate assistance from Tzu Chi volunteers on-site, she felt an immediate sense of relief. "It's our turn today. I have an appointment, so I came," said Mrs. Yao. "I hope to return to my normal lifestyle as soon as possible."
Another resident, Mr. Wang, also seemed to experience a weight being lifted from his shoulders after receiving the vaccine:
Some things can now be done without feeling so restrained. Most importantly, after vaccination, the community will not be in panic mode because the pandemic is more under control, and everyone can achieve peace of mind.
Mr. Wang, Flushing resident

Due to language barriers, there are many seniors in the Chinese community who are in need of vaccination appointments, but need assistance making such arrangements. (Photo by Jupiter Chiou)

Volunteers assist seniors with registration on-site. (Photo by Jupiter Chiou)
Dr. Liu was sincerely moved upon witnessing the volunteers working hard to provide care that was both clear and heartfelt. "Tzu Chi volunteers are everywhere!" he said, and the rigorous training sessions could indeed be seen through their efforts.
After 550 doses of the vaccine were given, a second dose will be provided. CAIPA will also remind residents who were vaccinated to return to the same location in April according to appointment. With love and relief, Tzu Chi volunteers will continue to help uphold the health and safety of communities amid the pandemic.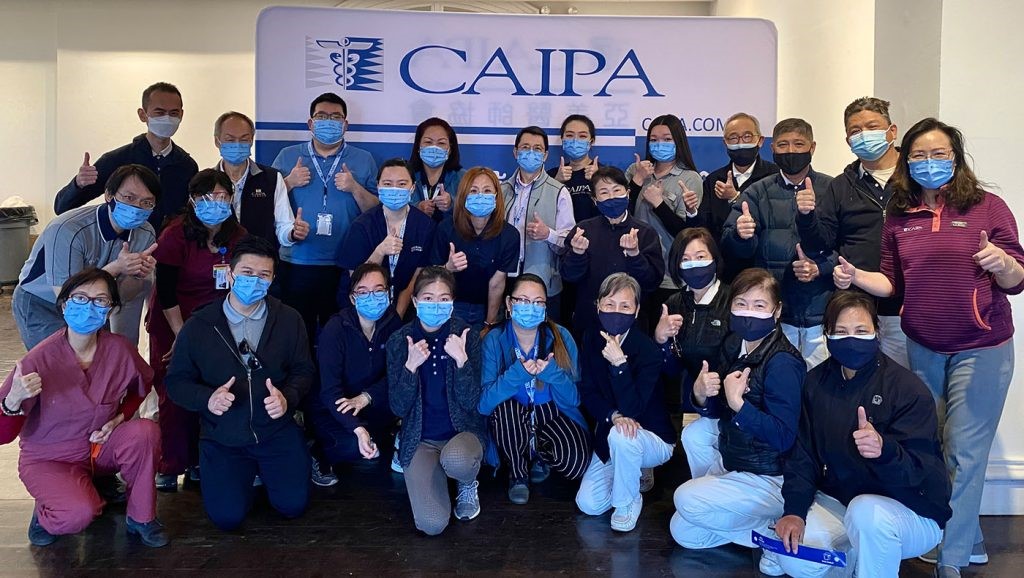 Two community organizations work together to administer the first batch of vaccines. (Photo by Tun Lin)