Eng Poy Sang (left) and his wife, Wang Mai (right), have contributed to environmental protection for over nine years, and Tzu Chi Sentul Recycling Centre has become their second home.
"We have dedicated ourselves to environmental protection work for over nine years," Eng Poy Sang, who is in his 70s, smiled as he mentioned that Tzu Chi Sentul Recycling Centre was like a second home to him and his wife, Wang Mai.
Even during the movement control order (MCO) in March 2020, whereby all Tzu Chi recycling centres and points were temporarily closed, the couple remained dedicated to recycling activities. They resumed their recycling work as soon as the restrictions were relaxed in June the same year.
Although life was disrupted by the pandemic, the couple persisted in doing recycling. Given the circumstances, they turned their home into a collection point, accepting recyclables from the neighbourhood. They took every precaution sorting recyclables outside the house with their masks on, and then sent the items to the recycling centre straightaway.
"Sometimes when there were too many recyclables, my husband would send them to the recycling centre by car. Otherwise, I would tie and transport them on the motorcycle. We would make four to five trips a week. Some people wondered why we like spending so much time at the recycling centre, and I would share with them that it is where we protect the Earth and cultivate ourselves spiritually," Wang Mai's eyes crinkled when she smiled.
Breaking Old Habits
Wang Mai came from a poor family in Johor; she is the youngest of the brood. Her mother raised seven children single-handedly. Due to financial constraint, she stopped schooling after primary school to work and ease her family's burden. Back then, she lived in an estate, and helped her mother with paddy and vegetable planting besides rubber tapping. When she was in her 20s, a relative matchmade her with Poy Sang, who was in Kuala Lumpur. Coming from a similar background, the duo connected and cherished each other, eventually leading them to marriage.
"I am not afraid of hardships or poverty. After our marriage in 1977, I rented a stall in Gombak's wet market to sell vegetables and fish," Wang Mai recounted. Since selling live fish provided higher profit back then, Poy Sang would slaughter the fishes upon request while Wang Mai oversaw the sales of the vegetables.
It was the couple's dream to own a house of their own instead of living in the illegal wooden house they rented. After much toiling, they rented a nearby wooden house, which Wang Mai turned into a grocery store. With the wet market stall and grocery business, the couple finally saved enough to buy an apartment, which they are still residing in until now. This is where they started a family.
In 1996, the authorities acquired the land where their grocery store was, for road reconstruction, indirectly ending both their businesses. Fortunately, as their two daughters had already grown up to be responsible university students, it did not add to their worries. Instead, they opted to retire.
To Wang Mai, who was used to regular physical work, the early days of their retirement were long and boring. It was not until 2011 that she found the 'meaning' of her retirement.
That day, the couple passed by the then newly established Tzu Chi Sentul Recycling Centre, where Tzu Chi volunteers and some public members were busily sorting recyclables. It was not an entirely new activity to Wang Mai, as she used to keep recyclables like cardboards, carton boxes and newspapers in their store for the needy foragers to sell for money.
"Seeing the volunteers stepping on aluminium cans and separating coloured from white paper, I felt I could do it too. So, when we went to drop off recyclables, we stayed to help with the sorting," Wang Mai recalled.
With the encouragement from volunteer Soo Kam Yip, the couple began participating in recycling and other Tzu Chi activities diligently. As they both grew up in impoverished conditions, they appreciated recycling as it helps save Mother Earth and also the needy. Eventually, they joined Tzu Chi and became dedicated volunteers.
Through charity visits, Wang Mai witnessed a young lady, who worked as an escort, became paralysed due to a fall from the second floor when she was intoxicated; and there was nothing she could do to end the suffering. The helplessness terrified Wang Mai, and she vowed to lead a meaningful life. Hence, she began putting more effort in protecting the environment, picking up recyclables from the roads and the bins.
Whenever Wang Mai heard someone commenting that the volunteers were doing a silly job collecting rubbish (recyclables) without any reward, or even spending their own money to do the job, she would try to clarify. However, she was often misunderstood to be hot-headed owing to her loud voice. Although other volunteers always reminded her to speak softly and in a pleasant manner, she would shrug it off.
In 2012, the couple participated in an environmental protection camp organized by Tzu Chi Headquarters in Taiwan. When Master Cheng Yen softly greeted everyone, Wang Mai immediately replied in her usual booming voice. Later, others reminded her that she should learn to speak softly like the Master. She recalled that Master's poise and soft voice was particularly comfortable to hear. Hence, she secretly decided to emulate Master's soft-speaking manner.
Also, during their visits to several Tzu Chi recycling centres in Taiwan, Wang Mai noticed that the volunteers did not chat and instead focused on the tasks on hand. The tranquillity and devotion impressed her deeply. The Tzu Chi etiquette observed throughout the trip prompted Wang Mai to reflect on her own speech and behaviour, and she was determined to start speaking softly, controlling her temper and refraining from getting into arguments.
She related, "I thought it would be difficult to break these old habits, but thankfully, everyone at the recycling centre were kind to constantly remind me to keep my voice low whenever I spoke loudly."
Additionally, there were many Jing Si aphorisms at the recycling centre, such as, "Be soft-spoken and forgiving"; "If we are irritated by others, it is because we are yet lacking in moral cultivation"; "Be willing to serve and be happy to bear"; and "Take the Dharma to heart and practise it in daily life". These aphorisms served as reminders and guidance to Wang Mai, helping her to gradually break her old, bad habits.
Wang Mai shared smilingly, "There were more and more recyclables to sort out, leaving me with no time to waste. I usually went home tired and naturally, did not have the energy to be annoyed at trivial matters. Over time, many people said my temper had become milder." Even people from her hometown noticed her positive change.
When they learnt that she has been doing environmental protection work for years, they complimented her sincerely. The support and acknowledgement became the major driving forces for her to press on.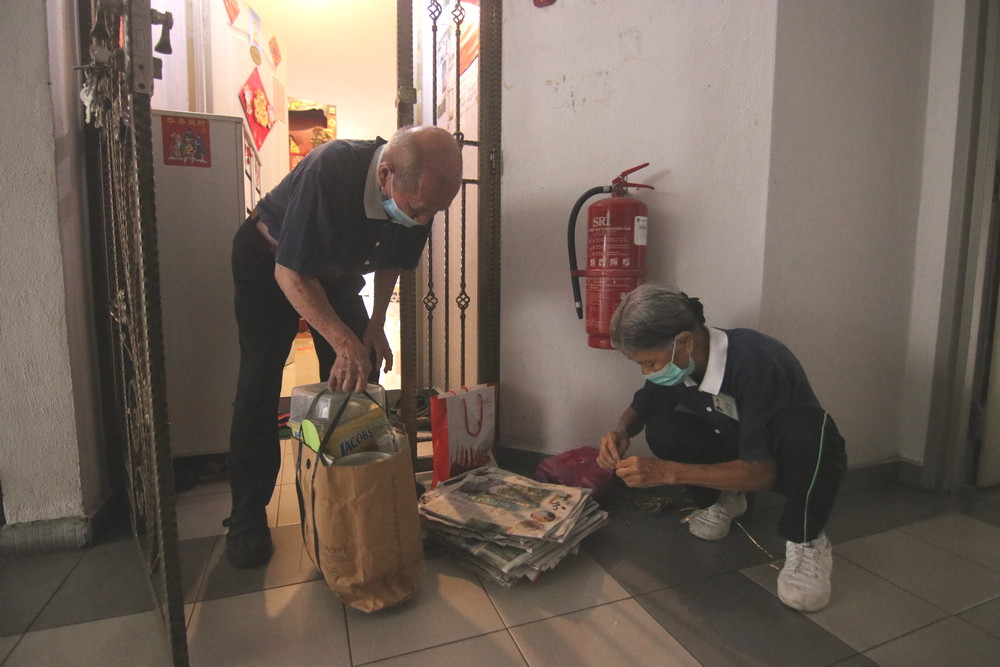 When the pandemic situation eased, Eng Poy Sang's neighbours would leave recyclables at his doorstep. After sorting the items, Poy Sang and his wife would send them to the recycling centre.
Curbing Desires, Becoming Vegetarian
Poy Sang is grateful that they came into contact with Tzu Chi and Buddhism through recycling work. In 2015, they took part in the "Dharma as Water" musical adaptation and learnt about the law of karma. The story of Master Wu Da's encounter with the force of karmic retribution that manifested as a human-faced boil on his knee, left a particularly deep impression on Poy Sang. Furthermore, a scene from "The Dream", where a wealthy woman who enjoyed fish balls dreamt that she became the animals being slaughtered, frightened him. He could not help but reflect, as after all, he had slaughtered countless fishes when he was a fishmonger.
After completing the 108-day of vegetarian fast for the musical adaptation, the couple continued to adopt vegetarian meals. Increasing from twice to thrice a week, they eventually became full-fledged vegetarians. To Poy Sang, becoming vegetarian was the same as doing recycling work. He emphasized, "It is not difficult. You just have to be determined."
The simple action of collecting and sorting recyclables has brought him a deep sense of satisfaction, because it means preserving Mother Earth. He also shared his favourite Jing Si aphorisms, "Give without asking for anything in return" and "For the right thing, just do it". They inspired him to speak good words and do good deeds, making his life more meaningful.
On a plot of land outside the recycling centre were some vegetables and sugarcanes planted by Wang Mai, who enjoys gardening. When the sugarcanes ripen, she would harvest them and bring them to a nearby mamak stall, for the owner to help turn them into sugarcane drinks to share with volunteers at the recycling centre.
She shared, "I am grateful that my husband and I can do recycling work together, post retirement. We are really happy to be doing this, and it feels as sweet as having sugarcane drinks…"
Just as sugarcanes are sweeter at the bottom than the top, one has to fight through some bad days to live the best days of one's life. Poy Sang and Wang Mai feel blessed that in their later years, they are able to have a life without regrets, nurturing Mother Nature with their hands.
In June 2020, when the MCO was relaxed, the public began sending recyclables to the recycling centre again. As usual, Eng Poy Sang and his wife would move the items into the centre for further sorting.