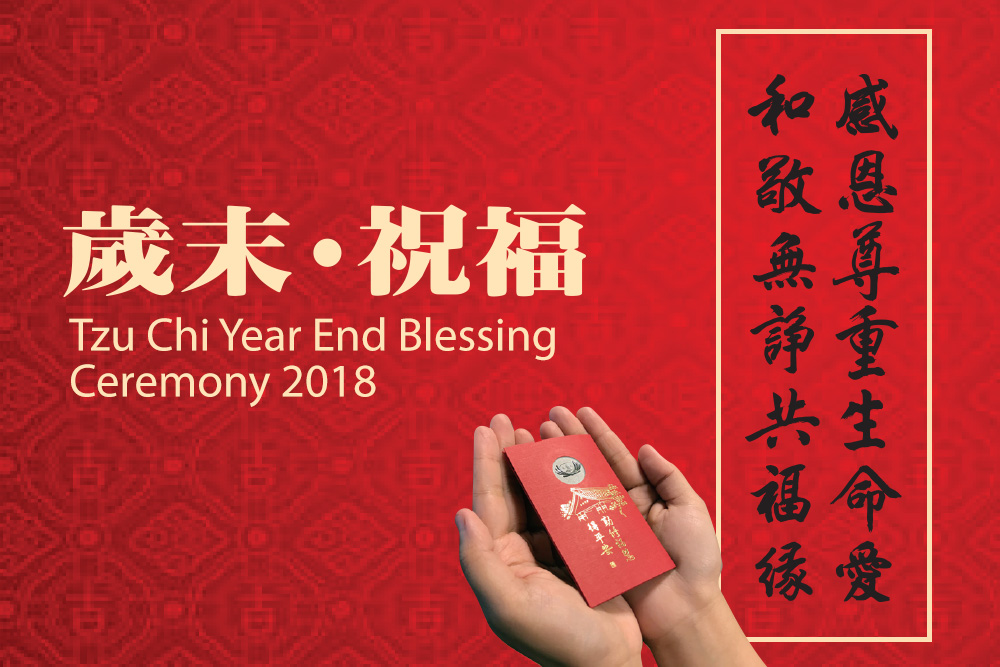 In appreciation of our donors' and volunteers' continued generous support, we will be holding the annual Tzu Chi Year End Blessing Ceremony, which also aims to inspire Great Love and kind thoughts in everyone. Some of the highlights of the ceremony include a review of Tzu Chi's local and global humanitarian works over the past year, an exhibition, health talks, book sharing sessions, and sign language performances. Each event attendee will receive a "Red Packet of Blessings and Wisdom" as a token of gratitude and blessing from Dharma Master Cheng Yen and all other Dharma masters at Jing Si Abode in Hualien, Taiwan.
The Significance of the "Red Packet of Blessings and Wisdom"
Come with your family and friends to join us in this special event of the year and share in the Dharma joy!
---
Our theme for this year:
Nurture a Love for Lives, Be Grateful, and Respect One Another.
Foster the Spirit of Harmony, Prevent Conflicts, and Create Blessings Together.
As Year 2019 approaches, Dharma Master Cheng Yen aspires for a world where people are grateful for and respectful of one another. She also hopes that every one of us can extend our love and respect to our planet by adopting a vegetarian diet, cherishing our belongings and resources, and taking action to care for the environment.
In our daily life, we may commit either good or bad karma with our speech and actions. Out of the Ten Unwholesome Deeds expounded by the Buddha, three are committed by our body and another three are committed by our mind, while the remaining are the four kinds of evil speech—abusive speech, lies, flattery, and tale-bearing.
Master Cheng Yen said, "When our mouths speak harsh and unkind words or bear tales about others, we cause conflicts among people, and this leads to man-made disasters." Hence, we should be mindful in what and how we speak, and only utter words that encourage acts of kindness and social harmony.
In addition to that, millions of animals are killed every day to satisfy people's desires of the palate. Such accumulated karma of killing leads to human suffering. The world is now facing an ecological catastrophe, with painful cries coming from countless living creatures each day. The karma of killing has brought about turmoil and disasters around the world. If we really wish for a peaceful world that is free of disasters, it is best that we adopt vegetarianism.
We are all one in this world. We hope that everyone respects one another and there will be no conflicts among people. May we have no arguments, give compliments to others and spread stories of goodness. May everyone build positive karmic connections with gentle and loving words.
At the same time, let us show our respect to all living beings on this planet and appreciate the beauty of Mother Nature by adopting vegetarianism and making environmental protection part of our daily life. By cherishing and conserving Earth's resources, we can allow our environment to rejuvenate itself.
---
Year End Blessing Ceremony Sessions
Location
Far East Organization Auditorium, SCCC Level 9
Time
9.30am – 11.30am
Public Session

11.30am – 1.00pm
Volunteer Session

2.00pm – 3.00pm
Public Session

4:00pm – 5.00pm
Public Session

7.00pm – 8.00pm
Public Session
*Admission by ticket only. Please contact us at 65829958 for complimentary tickets.
---
Exhibition on Tzu Chi's Missions
Location
SCCCI Multi Purpose Hall, SCCC Level 7
Time
9.15am – 9.30pm
Features
Exhibitions and interactive activities related to our charity home visits, free clinics, holistic education, eco-friendly lifestyle and Jing Si Abode.
*Free Admission. No ticket required.
---
Medical Talk, Book Sharing and Sign Language Performance
Location
Zhong Sheng Jian Recital Studio, SCCC Level 6
Time
9.15am – 10.15am
Health Talk — "Meet the Healthier You" (in Chinese)

10.45am – 11.15am
Sign Language Performance by Students from Tzu Chi Great Love PreSchool

11.20am – 12.55pm
Video Screening of Tzu Chi's Stories

1.15pm – 1.45pm
Book Sharing — "Life Economics" & "行愿半世纪"

1.50pm – 2.55pm
Video Screening of Tzu Chi's Stories

3.15pm – 3.45pm
Sign Language Performance by Tzu Chi's Youth

3.50pm – 4.55pm
Video Screening of Tzu Chi's Stories

5.15pm – 6.00pm
Sharing on Green Living Tips (in Chinese)

6.05pm – 7.55pm
Video Screening of Tzu Chi's Stories

8.15pm – 9.15pm
Health Talk —
"Plant Based Diet for Sustainable Living" (5 Jan, in Chinese);
"Winning the War on Diabetes" (6 Jan)
*Free Admission. No ticket required. Limited Seats Available.